LONDON – The most religious celebration of the Muslim calendar has taken place around with the world with a fascinating twist this year. For the first time, Muslims are visibly fulfilling the tradition dating back to the time of Prophet Abraham, by looking at the diet Prophet Muhammad had, specifically on how meat was a delicacy enjoyed occasionally.
American lawyer Faisal Kutty for example wrote, 'It was `Eid Mubarak, not MooBaaRak since I did not sacrifice an animal today. If you did, eat less, and give more to the poor.'
In his piece on the animal sacrifice in honor of Prophet Abraham's devotion to God, American Muslim scholar Dr Khaled Abou el Fadl observed, 'the sunnah was to slaughter animals, and then to share the meat with needy families in festive social events.'
Like Hajj, a spiritual journey bringing together all walks of life, the objective of `Eid Al-Adha is very much a social occasion to be enjoyed all levels of society. Community is at the heart of the biggest celebrations in Islam. To this end, here's an insight to how some British Muslims celebrated their `Eid.
`Eid is about Fashion
'`Eid Mubarak to all my friends and family who are celebrating. Had the most busiest day with fun, laughter and lots of food, didn't get chance to say `Eid Mubarak. So here's my chance. Thanks to my mamoo for my lovely suit.'
Maleeha A.
`Eid is about our Neighbors
On attending `Eid prayers in a recently converted Church, the imam asked, then answered, 'What is the meaning of the Christian church, what is the meaning of Christianity.'
Mushfaque C.
`Eid is about Remembering the Less Fortunate
Wishing you and your family a blessed and a happy oath. Amazing to see and feel the love all around the world today. May God keep you in good faith and spirit. Let us remember those less fortunate, including those impacted by poverty, hunger, conflict, and disease. Ameen
Shehneela A.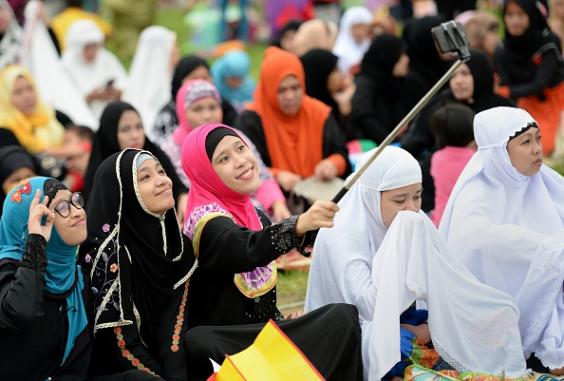 `Eid is about Family
First time for everything … first time prayed `Eid salah !! # familygoals
Samar F.
`Eid is about Exercise
A most blessed and peaceful `Eid to all my friends and family. I had a beautiful `Eid gift yesterday attending an awesome workout on attachment by esteemed Dr Christopher Clulow a true guru.
Sania S.
`Eid is about Entertainment
`Eid Mubarak. Music Hype with Leila `Eid Edition. Going Live on Bangla TV sky 821 & Facebook soon!
Leila R.
`Eid is not about Distance
While on pilgrimage and remembering those at home in the UK, 'Belated `Eid Greetings from the most amazing place on earth. Lots of love and romance for all our family and friends.'
Zaheer H.
`Eid is about Travels
Rediscovering Saudi … `Eid Mubarak from Abha, a little gem in the Kingdom of Saudi Arabia. There are mountains where every curve and line tell a story, lush greenery which I did not expect and amazing weather of 25 degrees with a cool breeze in September. Happy `Eid Mubarak peeps xx
Nahla G.
`Eid is about Supporting Local Communities
`Eid Mubarak. From mine to yours <3
Today's `Eid, a hand woven sari I bought in Calcutta. Made by an artisan community in the rural Odisha region of India. What an honor to wear it. An ode to their talent.
Rahima B.
`Eid is about Contemplation
In addition to the festivities, `Eid Al-Adha is a time to reflect on how we are living in our lives, and what we are doing to serve. That is, in short, is the meaning of Prophet Abraham's sacrifice that we remember and commemorate at this time, may the peace and blessings of Allah be upon him and his family. Hope you all have fun and enjoy this auspicious occasion! But, if possible, take some time out to reflect and appreciate the deeper significance of this special festival
Paul A.
`Eid is about Wishing Love
`Eid Mubarak dearest family and friends.
May Allah bring you joy, happiness, peace and prosperity on this blessed occasion. Wishing you and your loved ones on this happy occasion of `Eid!
Nasira K.
`Eid is about Eating Well
`Eid Mubarak!!! Have a blessed day with your friends and family. May it be filled with love, laughter, and FOOD!
Kiran R.
`Eid is about Endurance
`Eid Mubarak once again. `Eid breakfast, `Eid lunch, `Eid Dinner….`Eid….still carrying on….
Natasha S.
`Eid is about Celebrations
This has to rank among the best `Eid ever non-stop celebrations the dinner yesterday was brilliant let the fun continue.
Faisal L.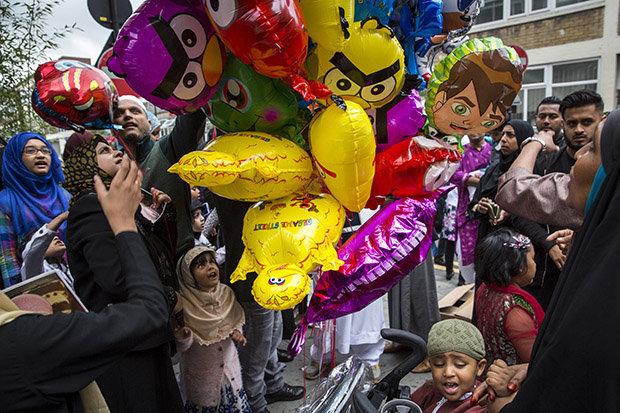 `Eid is about Sharing Celebrations
`EID day and Every Friday Feeding the Homeless, Poor & Needy for past 6 years.
Tamkin R.
`Eid is about Setting a Good Example
As Muslims, it is our duty to remind the world of ours is a way of life, Islam is a way of peace, and in the footsteps of the father of all modern monotheistic religions Ibrahim AS. Let us remember to be grateful and set an example to our future generations through our actions, for the pleasures of this World are only temporary. `Eid Mubarak!
Akhbar S.
`Eid is about Family
`Eid Mubarak and to all celebrating, Taqabbal Allahu minaa wa minkum, may Allah accept (good deeds) from us and from you. Free `Eid hugs on special offer today:. Completed with Mum and Dad all day, I'm worried did people's ears will start falling off soon with my sons' near non-stop talking.
Syed R.
`Eid is about Understanding Blessings.
I would like to convey Happy `Eid to you and your family. Allah SWT will test us by giving the best of our lives. I pray to Allah to grant you and your family with good health, education, job, prosperity, peace, harmony, bonding, best of friendship and Imaan.
Mohammed I.
`Eid is about Patience
`Eid Al-Adha is `Eid of sacrifice, and commitment to Allah's orders, May Allah bless us with the same in all circles of life, and help all amongst us, who are helpless, worried, and waiting for his Rahamat, Ameen.
`Eid Mubarak! & Jum`ah Mubarak!
Amina M.
`Eid is for Everyone
`Eid Mubarak everyone. Hope you have a wonderful day, wherever you are…
Emile S.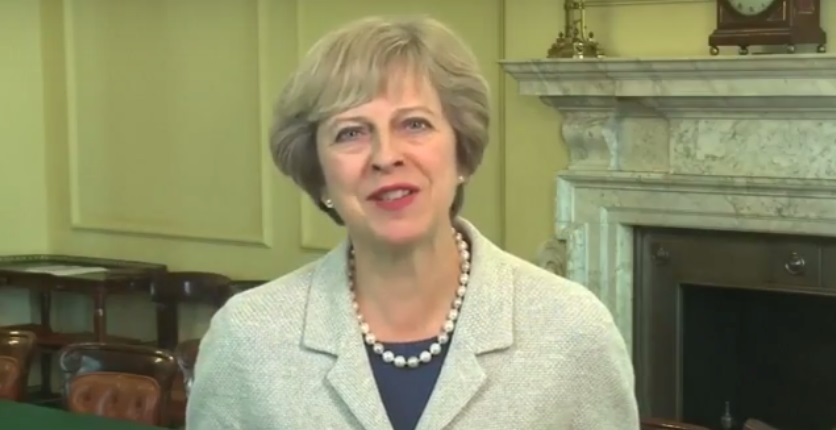 Keeping with tradition, Prime Minister Theresa May sent an `Eid Greeting to British Muslims:
"Indeed, British Muslims, and people of Muslim origin, make a huge contribution to all walks of life in the United Kingdom. They help enrich the successful multi-racial, multi-faith democracy that is twenty-first century Britain… And in their warm spirit of neighborliness and compassion, the `Eid celebrations demonstrate common values in which we can all share."
While the Secretary General of the Muslim Council of Britain, Muhammad Abdul Bari said:
"`Eid transcends barriers and boundaries and unites human beings in common joy. It reminds us of the importance of harmony, human equality and compassion for all. Muslims in Britain face many challenges and hurdles. In the face of the slings and arrows that come our way, I urge my brothers and sisters to remain resilient and steadfast, reach out to your neighbors of all faiths and none, be vigilant in upholding your rights but be ever ready in discharging your responsibilities to all those around you, with humility and compassion. `Eid Al-Fitr translates as the 'festival of charity', I hope we can all uphold the spirit of charity in the year to come."
American scholar Khaled Abou el Fadl* added:
"In order to rekindle the meaning and true spirit of `Eid Al-Adha, I would recommend that other than paying the zakat due at `Eid Al-Adha, organize meals and social events that would bring the community together and would fulfill the original meaning of `Eid Al-Adha in acts of sharing and kindness with others."
May the Mercy, Kindness and Love of God bring all that is good to all of us, and may we all be blessed with safety, ease and peace in our lives, ameen. Happy `Eid!