Over the past four years, a group called Muslim Sisters of Eire (MSOE) has been running weekly soup kitchens to help the homeless in Dublin, Ireland.
After the outbreak of COVID-19 pandemic, the group has noticed a significant increase in the number of people experiencing food poverty.
"Last week there were 450 meals provided and 400 cups of tea were given out. The week before was 375 and the week before was 350," Lorraine O'Connor, chairwoman of MSOE, told The Times.
📚 Read Also: Muslim Nurse Honored for Helping Homeless
"Sometimes people come along, and you can see their desperation and they may fill their bag more.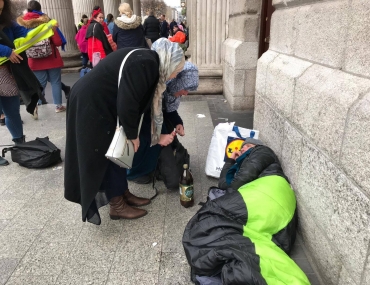 "You're telling them whatever is there, take one of everything because we are trying to make sure there is something there for everyone. There was a lot of agitation and frustration starting to grow last week."
O'Connor said that before the outbreak of COVID-19 MSOE was serving about 200 meals every Friday.
She urged government officials to visit any soup run in Dublin and "see the desperation these people are facing" and take action to prevent it.
Rising Homelessness
Inner City Helping Homeless said it experienced its highest number of engagements this year with 143 people sleeping rough last Monday.
The charity also had 3,005 "on-street engagements" in July — the highest monthly total this year.
Many attribute the rising number of homeless people over the past months to the fact that during the COVID-19 pandemic government had to close a number of existing hostels and reduce the capacity in other facilities.
The coronavirus has infected 26,712 and claimed 1,772 lives in Ireland as of Monday morning, according to WorldOmeter.
The virus is especially dangerous to the elderly community and those with compromised immune systems.
According to the 2016 Pew Research Centre report, Ireland's Muslim population stands at approximately 70,000.
Islam lays a great emphasis on the virtue of neighborliness, stressing on Muslims' individual duty to be good to their neighbors.