A number of Birmingham mosques have urged Muslims recovered from COVID-19 to donate plasma to save lives as part of the NHS plasma drive.
"The NHS are in urgent need of blood plasma from the Birmingham BAME community. They would like masjids and Islamic leaders to get behind the campaign," the mosques said in a statement, Birmingham Mail reported.
"Throughout the ongoing pandemic, mosques in Birmingham have played their part, from helping deliver emergency support to the most vulnerable through to enforcing social distancing and taking the unprecedented decision to voluntarily close places of worship.
📚 Read Also: I Live in a Non-Muslim Country: Will I Receive a Reward for Donating Blood?
"However, we are again needed to help create awareness about a convalescent plasma drive being led by NHS."
The statement was signed by 17 mosques from across Birmingham city. Mosques in the initiative include Green Lane Masjid and Community Centre (GLMCC) in Small Heath, Birmingham Central Mosque in Highgate, and Masjid Al Falaah in Aston.
Blood transfusion for medical purposes is permissible in Islam, as it orders Muslims to feed the hungry, take care of the sick, and save the lives of people.
It is also permissible to take blood from a non-Muslim and it is permissible to give blood to non-Muslims. These matters are related to human life.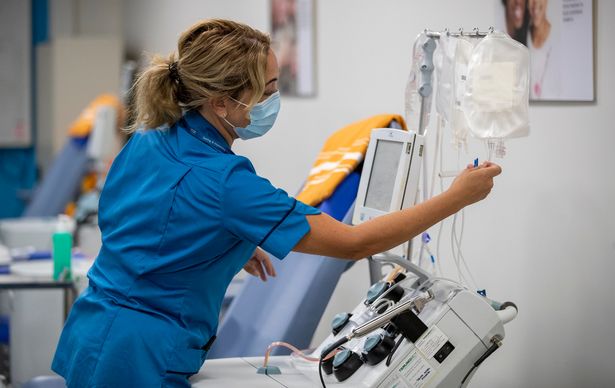 Saving Lives
The NHS Mosques Plasma Drive will run from September 4 to 18.
"As a group of mosques, it is important that we raise awareness of this potentially lifesaving treatment.
"The NHS has also stated that the Asian community are more likely to have antibody rich plasma that could save the lives of people with coronavirus.
"We know that saving lives is a central component of our faith. In fact the Qur'an states (5:32): Whoever saves a life – it is as if he had saved humanity."
Muslim groups in different countries have been working tirelessly to provide health equipment to frontline workers.
Loft25 has teamed up with Green Lane Masjid and Community Center to provide 1 million masks to Birmingham.
British Muslim businessman Yousuf Bhaliok donated £200,000 to NHS in March, launching an appeal to raise £1 million.
In April, Masjid Hamzah al-Mahmood Foundation in Minnesota volunteered to sew 1,500 homemade masks for low-risk patients and non-medical staff.
It is essential for Muslims to focus on their principles of charity during a time of global fear.
"Who is it that would loan Allah a goodly loan so He may multiply it for him many times over? And it is Allah who withholds and grants abundance, and to Him, you will be returned." (The Holy Qur'an, 2:245)