As health experts warn that minority ethnic groups must be prioritized for COVID-19 immunizations, a local mosque in Balsall is set to open a vaccine hub in its community halls to reach more vulnerable residents.
The imam of Al Abbas Islamic Centre in Clifton Road, Balsall Heath, led the way to encourage others to take up the vaccine, Birmingham Live reported.
"Alhamdu Lillah! Received my first dose. #NoToFakeNews #YesToVaccine," Imam Sheikh Nuru Mohammed posted a photo receiving a jab on Twitter.
📚 Read Also: False Vaccine Claims 'Could Hinder Muslim Immunization': Doctor Warns
The vaccination hub will open on Thursday as mosque trustee Haider Hudda said the venue's leadership committee, guided by medical experts, were keen to play their part in supporting the rollout and the local community.
"We took the decision to protect worshippers, their families and our community," said Hudda.
"We have many worshippers living in multi-generational households or who are clinically vulnerable so we think the risk to them of additional interactions is great. Behind the center are housing complexes with elderly residents and that is another reason to avoid risk.
"Then the new variant has come along and after we weighed up the pros and cons we realised the risks are too great to open just yet.
"While we are COVID secure and take every measure inside, people still have to get to and from here and risk interactions that way."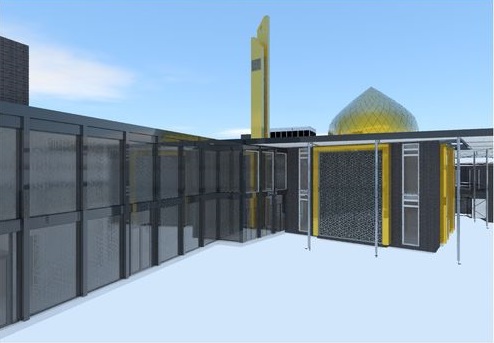 Ask Experts
Hudda also encouraged people with personal concerns about the vaccine to get the facts from trusted medical experts.
"We have been open and transparent with our communities. Our medical taskforce, including local doctors, is always available to answer concerns and give regular updates about the pandemic.
"They have addressed many personal and specific questions and are very careful to get the message across about the safety of the vaccine."
Different Muslim groups have been leading campaigns to encourage people to take the vaccine and protect lives.
Earlier this month, the British Islamic Medical Association (BIMA) okayed the Oxford/AstraZeneca vaccine for COVID-19 for Muslims.
In December, BIMA also approved Pfizer/BioNTech vaccine for Muslim communities, confirming that there are no animal products in this vaccine.
On another level, scholars from some of the most influential Islamic seminaries in the UK have also issued fatwa saying that the new Pfizer BioNTech COVID-19 vaccine is halal.