Arsenal Muslim midfielder Mesut Özil took to social media Friday to support the persecuted Uyghur Muslim minority in China, criticizing Muslim countries for failing to speak out for them, Agence France Presse (AFP) reported.
"Korans are being burnt … Mosques are being shut down … Muslim schools are being banned … Religious scholars are being killed one by one … Brothers are forcefully being sent to camps," Ozil wrote in Turkish on his Twitter account.
"The Muslims are silent. Their voice is not heard," he wrote on a background of a blue field with a white crescent moon, the flag of occupied East Turkestan.
#HayırlıCumalarDoğuTürkistan 🙏🏼 pic.twitter.com/dJgeK4KSIk

— Mesut Özil (@MesutOzil1088) December 13, 2019
Özil had added his voice to the wave of international outrage about the treatment of the Uyghurs, a Turkic-speaking Muslim minority who have been subjected to a campaign of religious and ethnic persecution by the Chinese authorities.
His message, also uploaded to Instagram, read: "East Turkistan, the bleeding wound of the Ummah, resisting against the persecutors trying to separate them from their religion. They burn their Qurans. They shut down their mosques. They ban their schools. They kill their holy men. The men are forced into camps and their families are forced to live with Chinese men. The women are forced to marry Chinese men.
"But Muslims are silent. They won't make a noise. They have abandoned them. Don't they know that giving consent for persecution is persecution itself?"
Many refer to China's Xinjiang Uyghur Autonomous Region — home to many ethnic minorities, including the Turkic Uyghur people — as East Turkestan.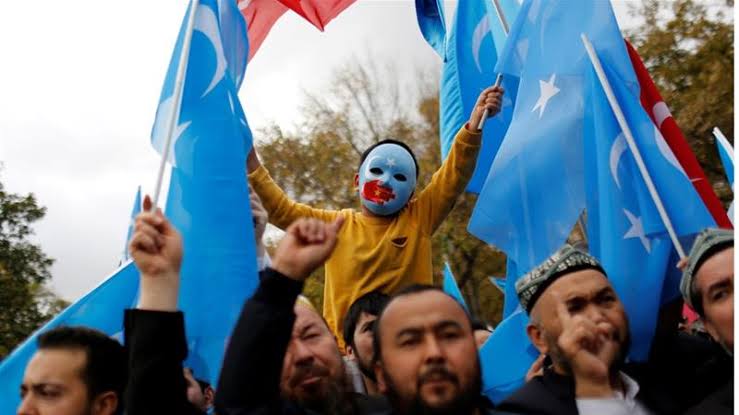 Persecuted Uyghurs
For years, Chinese authorities have been imposing restrictions on Uyghur Muslims in the north-western region of Xinjiang.
China has faced growing international condemnation for setting up a vast network of camps in Xinjiang aimed at homogenizing the Uighur population to reflect China's majority Han culture.
According to several reports by media and rights groups, more than one million Uyghurs and people of other mostly Muslim ethnic minorities have been rounded up in the camps in the tightly-controlled region.
In its 117-page report, "'Eradicating Ideological Viruses': China's Campaign of Repression Against Xinjiang's Muslims," Human Rights Watch presented new evidence of the Chinese government's mass arbitrary detention, torture, and mistreatment, and the increasingly pervasive controls on daily life.
After initially denying the camps existed, China describes them as vocational schools aimed at dampening the allure of Islamist extremism and violence.
Arsenal Responds
Arsenal moved to distance themselves from Özil's comments in a bid to limit fallout in China, where the club has numerous commercial interests.
"The content published is Özil's personal opinion," the club said in a Chinese language post Saturday on its official account on the Twitter-like Weibo platform.
"As a football club, Arsenal has always adhered to the principle of not involving itself in politics.
Mesut Özil, 30, is Arsenal's top attacking midfielder and winger who hails from Turkey but plays for the German national team.
He played for Schalke 04, Werder Bremen, and Real Madrid where he won a countless number of different trophies. He was also a key contributor to Germany's winning of the 2014 FIFA World Cup.
The German Muslim star is known for offering a dua (supplication) or prayer during football matches – especially after scoring a goal or a victory.