New Zealand on Saturday marked the second anniversary of one of its most traumatic days, when 51 worshippers were killed at two Christchurch mosques by a white supremacist gunman.
Ko Tātou, Tātou, We Are One national remembrance service was held at Christchurch Arena on Saturday and included an address from Prime Minister Jacinda Ardern, Stuff reported.
Ardern told the crowd she had been lost for words while preparing her speech because nothing she could say could "change what happened".
"Much has been said, but words, despite their healing power, will never change what happened that day. Words will not bring back those men women and children who gathered at their place of worship, quietly and peacefully when they were taken in an act of terror."
📚 Read Also: Imams Mark Christchurch 2nd Anniversary with 'Meet a Muslim' Events
Last year's national remembrance service to mark the first anniversary was cancelled due to the COVID-19 pandemic.
The second anniversary service, which was attended by about 1,000 people, became the first national memorial held after the tragic incident.
With the country currently at COVID-19 Alert Level 1, this year's remembrance service got the green light to go.
The service was also livestreamed for those not able to make it to the event.
The names of all 51 people who lost their lives that day were read aloud at the service, and the efforts of police and medics were also commemorated.
Remembering Victims
Dr Kiran Munir, whose husband Haroon Mahmood died in the Masjid An-Nur, delivered an address on behalf of the bereaved families.
"Two years have passed by today. We gather here to remember the 51 beautiful souls who departed this world."
Munir felt "honored" to stand before those gathered to speak on behalf of the victims' families.
"I … am the proud wife of Haroon Mahmood a well-educated, honorable and fine man. He was the love of my life and will always be."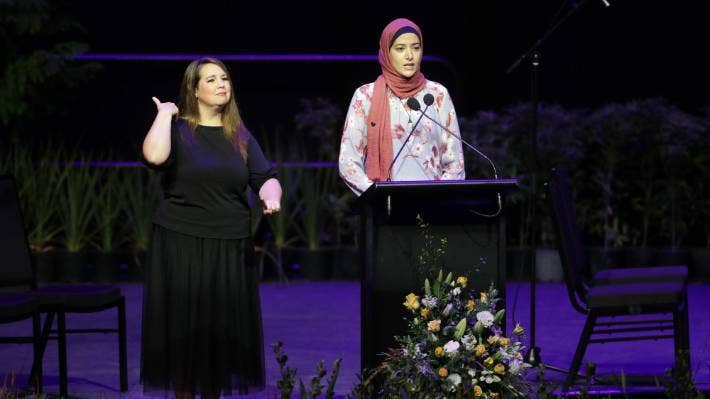 Maha Elmadani, who lost her father Ali Mah'd Elmadani, spoke on behalf of the young Muslim people affected by the attack.
"Two years ago 51 innocent lives were taken without mercy at the hands of a coward. Their crime was their faith, their crime was calling this beautiful city home.
"The pain of losing these 51 lives not only impacted the people of Christchurch, the pain ripped through New Zealand and the rest of the world and continues to be felt."
Healing
Temel Atacocugu, who was shot nine times in the face, arms and legs, spoke on behalf of the injured. He said March 15, 2019, was the day that "marked history with a dark stain".
"It is a miracle I am alive. I was shot nine times. Four bullets in my left leg, one in my right leg, three in left arm another one in my mouth," Atacocugu said.
"Every time I have an X-ray it lights up like a Christmas tree. Despite rehabilitation my left arm is permanently disabled like so many others. Many of my wounds will never fully heal."
Two years have passed since the grim massacre of 51 Muslims in New Zealand's Christchurch which shook the worldwide.
Christchurch is the largest city in the South Island of New Zealand and the seat of the Canterbury Region.
It is home to 404,500 residents, making it New Zealand's 3rd most populous city behind Auckland and Wellington.