CHRISTCHURCH – Alabi Lateef, the Linwood Avenue mosque imam, who saved several lives during the New Zealand terror attack, has broken his silence about the massacre, the New Zealand Herald reported.
Seeing the terrorist at the front door, Imam Lateef told all worshippers to drop to the floor for the second part of the Muslim prayer service.
"He saved lots of lives," a worshipper who survived the Linwood part of the massacre told Daily Mail Australia.
"Many more would be dead if we had been kneeling."
The Imam said he was leading prayer when the terrorist, Brenton Tarrant, began shooting Muslim worshippers outside.
"When I saw those Muslims shot dead I just told our brothers, "Go down! Go down! Somebody has just shot our brothers outside the masjid"," he told NZ Herald.
Some worshippers were not quick enough and were shot through the window.
"He [Terrorist] saw him standing and shot him [through] the window. When glass got broken and the brother fell down, everyone realized to go down," Imam Lateef added.
The imam ran out of the mosque with fellow worshipper Abdul Aziz, who had picked up a credit card machine on the way which he used to throw at the shooter.
Abdul Aziz, a 48-year-old father of four, picked up a gun abandoned by the terrorist and throw it to the window of his car, forcing him to flee.
While that was taking place, Lateef said he tried to use that time to secure the doors and keep the gunman out.
He was able to call 111 and began nursing the injured worshippers.
"I thought I'd be gone. I was ready to die because I felt for the brothers," he said.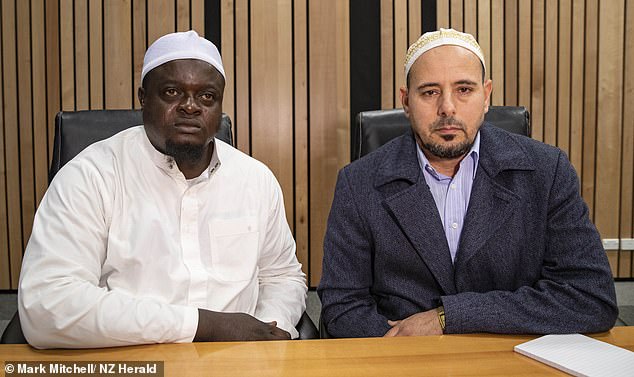 War on New Zealand
At Al Noor Mosque, 43 worshippers were killed as the terrorist attacked the mosque only five minutes into the service.
Gamal Fouda, the mosque's Egyptian-born and trained imam, said he heard noise from outside the mosque.
"Then the shooting started heavily," said Fouda, who ducked down and hid from the terrorist.
"People ran towards the big hole [in the glass]. Most of the people, they run through the window. That's why on this right side [of the building] only a few people were killed. But the left side, they fell on each other and they piled on top of each other. He was just standing and aiming at them."
The gunman methodically moved through the building executing people.
"Whenever he heard any noise coming from anywhere he would shoot towards it," Fouda said.
"He kept guarding people, calmly, and he was shooting and shooting and shooting and shooting.
"We couldn't even breathe from the smoke and the bullets flying everywhere.
"When he would run out of bullets, we were not sure if he had left because there was silence.
"We thought he was hiding, waiting… we were not able to see him. And thanks to God he did not know where we were.
"He came back and he started shooting again. Those people who came out from [hiding], he shot them again. Because we didn't know he was coming back."
Many who escaped hid in the mosque's rear carpark while others jumped fences to safety.
"Still I can't believe that I am alive," tearful Fouda said.
Fouda feels that those who have died – "May Allah give them peace" – have now passed into a better place, "to a world of justice, better than a world of injustice".
"You are one family," Fouda added as he broke into tears.
"I would like to send my sincere condolences to all New Zealanders. [Friday] was a war against all Muslims but I considerate it [a war] against all New Zealand and New Zealanders.
"We are not going to be scared. This is a war against peace and we should put hands together. New Zealand is a peaceful country and we love it and we will continue to love New Zealand and New Zealanders. This shouldn't scare us or stop us from working together as brothers and sisters, friends, in this beautiful country."