WELLINGTON – Seeking a larger share of Islamic tourism pie, New Zealand has launched the country's first halal food guide to offer Muslim travelers a better opportunity to enjoy a diverse range of halal-certified cuisine.
"New Zealand food goes way beyond fish and chips and barbeques – our chefs have developed a distinct Pacific Rim cuisine," tourism New Zealand's regional manager South and South East Asia, Steven Dixon, told Asia One on Monday, August 22.
"The guide's aim is to offer Muslim visitors a memorable visit to New Zealand and to maximize their enjoyment of the country's high quality food experiences."
The guide, announced this week, is the fruit of cooperation between Tourism New Zealand, the Kiwi Muslim Directory and Federation of the Islamic Associations of New Zealand (FIANZ).
It provides general tourism information, together with a list of restaurants and cafes, from halal-certified through to those which offer vegetarian dishes or vegan cuisine.
With the launch, New Zealand joins other popular destinations like Taiwan and Japan in their bid to attract more Muslim travelers and establish the country as a Muslim-friendly holiday spot.
The Halal Food Guide is available for download on the Singapore, Malaysia and Indonesia editions of Tourism New Zealand's website newzealand.com.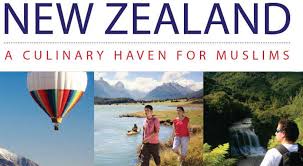 The halal industry is steadily growing in South Africa where Muslims make up some 1.5 percent of the country's 49 million-strong population.
Muslims have halal bodies that certify almost every product manufactured in the country. This has enabled Muslims to consume halal products.
Some of the country's major banks offer Muslims Shari`ah-complaint banking facilities.
Muslims have also established their own Islamic banks and insurance companies.
A recent study released by Singapore-based halal travel specialist Crescentrating and DinarStandard has expected influx of Muslim holidaymakers over the next decade.
The study, conducted in 47 countries, found that spending by Muslim tourists is growing faster than the global rate and is forecast to reach $192 billion a year by 2020, up from $126 billion in 2011.