CHRISTCHURCH – New Zealand rugby Muslim star, Sonny Bill Williams, has called on the public to learn about Islam following the public Friday prayer which was held in Christchurch and broadcast on national TV.
"My message is about unity, it's about peace, it's about love, the core essence of what Islam is, and my message is about how we move forward as a people. Let's lead the way here," Williams told reporters, New Hub reported.
"Obviously it's such a tragic event but just the way people have reached out and shown me that they care. So I think now I just put it to the New Zealand public to find out about Islam because it is truly a religion of peace and love."
New Zealand came together on Friday, March 22, to support the Muslim community, with national TV airing adhan and Jum`ah prayer for the first time.
The prayer is held one week after a terrorist attacked two mosques in Christchurch, killing 50 and injuring many.
Prime Minister Jacinda Ardern joined thousands of mourners near the Al-Noor mosque, one of two places of worship targeted in last Friday's terrorist attacks.
The 33-year-old was given time off from the Blues this week to show solidarity to his fellow Muslims.
"After the first emotional hit came, then my thoughts were 'how can I be practical about this situation?'" he said.
"I am an All Black and I play for the Blues, but I am also a Muslim. Although I'm naturally a shy person I knew I had to be vulnerable and step up and be a leader in this space" Williams added.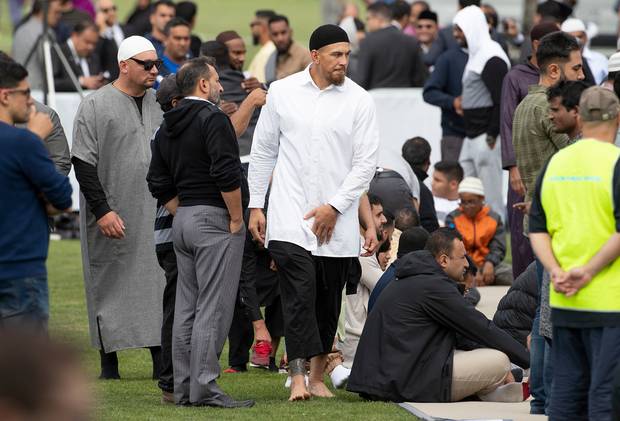 Humbling
Williams said he'd been proud of the way New Zealanders had embraced the faith since the attacks.
"I just want to say thank you from my heart because it's been humbling, it's obviously such a tragic event but the way people have reached out has shown me that they care," he said.
"Now is the time to move forward, and what does that look like? It looks like talking about racism and hatred."
He also urged New Zealanders to learn about Islam and Muslims.
"People don't really know what Islam is. I feel like to get that light, you need that knowledge and you need to understand what Islam is, so it can give that light which will get rid of the darkness," he said.
Born in 1985, Williams is a top-notch rugby star in New Zealand.
He is the only Muslim in the New Zealand squad, both in the Sevens and the XVs.
His conversion to Islam in 2008 took place after attending prayer services at a Sydney mosque.
In New Zealand, Islam is a minority religious affiliation, as small numbers of Muslim immigrants from South Asia and eastern Europe settled starting from the early 1900s until the 1960s.
The south-pacific island country of New Zealand is home to 36,000 Muslims, according to the 2006 census.