ADDIS ABABA – Believed to be the first mosque in Africa, Al-Najashi mosque has been drawing more visitors after been renovated recently by a Turkish aid agency.
"From what I have read, the mental picture I had about the mosque was it that it was old. But, it actually looks it was built one or two years ago," Nasir Saidi Salih, a visitor from Germany, told Anadolu Agency, Daily Sabah reported.
"It is a nice surprise for us," he said, explaining how he and his wife Flourans Lang ended up at the ancient site of Islamic heritage.
Located in the town of Wuqro, 790 kilometers (over 490 miles) north of Ethiopia's capital Addis Ababa, Al-Nejashi mosque is said to be the first mosque in Africa.
The mosque stands majestically on a spacious location, which also is the site of the 15 tombs of the prophet's companions.
It is named after Nejashi, the then Ethiopian king who hosted companions of the Prophet Muhammed (Peace Be Upon Him) who escaped persecution in Makkah.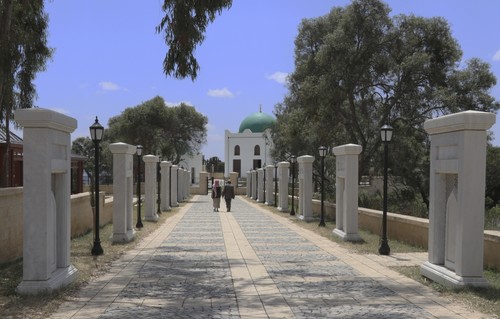 The mosque has recently been renovated by the Turkish Coordination and Cooperation Agency (TİKA).
Ali Mohammed Ibrahim, the imam of the mosque, said he is grateful to TİKA for having renovated Al-Nejashi.
"After the renovation, the number of visitors greatly increased," Ibrahim told AA.
"Not only Muslims, but Christians are also coming here to visit the mosque and its proud history, which the heritage site is full of."
Oldest mosques in Africa include the Larabanga Mosque which is built in the Sudanese architectural style in the village of Larabanga, Ghana.
It is the oldest mosque in the country and one of the oldest in West Africa, and has been referred to as the "Makkah of West Africa".
Built in 641–642 AD, the Mosque of Amr ibn al-As is also one of the earliest mosques in Africa. The original structure was the first mosque ever built in Egypt and the whole of Africa.
https://aboutislam.net/muslim-issues/asia/lhasas-tibet-mosque-one-highest-mosques-earth/