For every problem you have, it seems there is an app that can help you solve some aspects of it.
There are apps for tracking charitable donations and finding halal restaurants, more complex apps can aid in organizing and maximizing large events – Now there is even a Ramadan planner app!
Niche or focused apps can be useful during Ramadan as they could help you target things, such as boosting dhikr and reading Quran throughout the day, tracking daily calorie intake or how about using an adhan app to help get into the habit of catching your prayers?
Here are five apps we think you could really benefit from this holy month and a bonus suggestion too.
The Whole Plan
A one-stop spot for acquiring both physical planners and/or a planner app.Ramadan Legacy doesn't need to boast about being so many people's favorite – you can clearly see that it's been downloaded 100,000+ on Android alone.
Having updated itself regularly since its introduction in 2015 the app currently features:
– Interactive Planner, stunning new interactive planner and timeline for your achievements throughout the month.
– Legacy Board, a brand new home profile feature capturing all of your activity and deeds on your annual legacy board.
– Reflections Stream, live stream allows you to share photos and stories of your Ramadan experiences to other users across the globe.
– Content Feed, they've also developed your go-to place for learning with a content feed of inspiring Ramadan blogs and videos.
The latest version of the app is now available in iOS and Android stores.
Qur'an Focus
My Quran App is excellent for reading and listening to the Holy Quran with tafsir and tajweed rules. You can share verses from the app using e-mail, SMS, Facebook, Twitter, WhatsApp, Telegram, VK and other social networks. My Quran app features:
– Translation into 25 languages
– Tafsir – interpretation of the Qur'an;
– Original Quran text with tajweed rules
– Detailed information for each surah
– Screen with Ajza
– Easy to use and functional audio player
– Ability to play each ayah separately (for 11 reciters)
– Bookmarks and favorites options
– Quick access toolbar on the main screen
– Ability to delete cached audio files
– Customizable notifications
Recently updated based on customer feedback, My Quran also added support for IOS 11 and IPhone X and fixed several bugs. Available in iOS and Android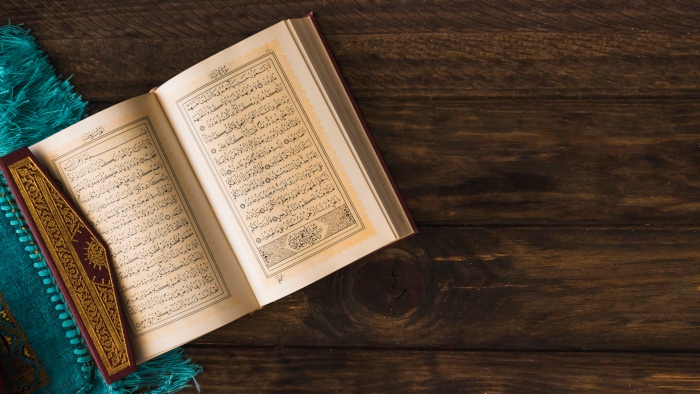 Possibly the "classic" Qur'an app with 10, 000, 000+ downloads and many pleased reviewers. Al Quran features:
– Madani compliant images
– Audio playback
– Bookmarks and highlighting
– Commentary
– Share options
– 15 audio recitations
– 20 different language translations
Available in iOS and Android
Al Quran MP3 – Quran Reading® (Ramadan Edition, Android only)
Updated for this Ramadan Quran Reading has added Ramadan timings and Calendar for you to keep updated about suhoohr and iftar timings. Quran Reading app contains Qur'an with translation, transliteration, and audio recitation of each chapter and verse of Quran. The app features:
– Translation of Qur'an in almost all languages around the world
– Transliteration for non-Arabic speakers helps you be able to read and recite the correct pronunciation of Qur'an
– MP3 Audio of each verse and chapter can be downloaded for the usefulness and abundance of recitation at any time and anywhere
– "GoTo" option for access to any specific surah of Qur'an or ayah
– Sajda Section to let the reader know about the 14 significant places of when to bow down
– Bookmarks
– Change of font style and size for user visibility; multiple scripts with new font option according to device compatibility
The new "Learn Tajweed: feature includes further sections, which entails:
– Prayer Times to give you accurate salah timings with azan alarm to remind you to offer prayer on time
– Introduction to the tajweed and why it is important to learn
– Mukhraj ul Haroof (Arabic vowel marks) to aid pronunciation
– Components of tajweed, including all essential signs which are important to learn for proper pronunciation of Qur'an
– Rules of Tajweed to shield you against the mistake which most of the Muslims commit whilst recitation as they are not aware of the basics of Tajweed of Qur'an e Hakeem.
Available only for Android
What direction do I pray???
If you are running around a lot this Ramadan, a Qibla finder will be a great help to ease catching all your prayers. While many Qur'an apps feature a qibla finder, an app just for that means it is regularly updated and more likely to actually work! Qibla Compass features:
– GPS Qibla locator
– Ability to accurately find the exact direction of Qibla (Kaaba) from almost anywhere in the world
– Ratings as the most accurate Qibla finder
– Elegant and smooth flow of the compass interface
Available in iOS and Android
Send some love and blessings
Muslim and Islamic Greeting Cards
There are dozens of apps available to forward some peace and love to your friends and family.
When choosing a greeting card app, be sure to look for the features you need – do you want to customize the look and text on your cards? Or do you want to send pre-made, beautiful cards that already have greetings or Qur'an on them?
As always, check through the apps' descriptions and reviews to find the best one for you.
More of the About Islam teams' favorite apps can be found here.
First published: May 2019