In an effort to ease the lives of millions of Syrian refugees, a Canadian architect of Arab origin has come up with an inspiring idea of creating a tent that collects rainwater and stores solar energy.
Invented by Abeer Seikaly, a Canadian-Jordanian architect, the tent uses a unique structural fabric composed of high-strength plastic tubing molded into sine-wave curves that can expand and enclose during different weather conditions.
Named as "Weaving a Home", the tent can also be broken down to allow an ease in mobility and transport, according to Egyptian Streets newspaper.
The designed tent can also collect rainwater and provide basic sanitation like showering, as the rainwater is collected from the top of the tent and filters down the sides to storage pockets.
The tent can further absorb solar energy and transform it into electric energy, which is stored in special batteries.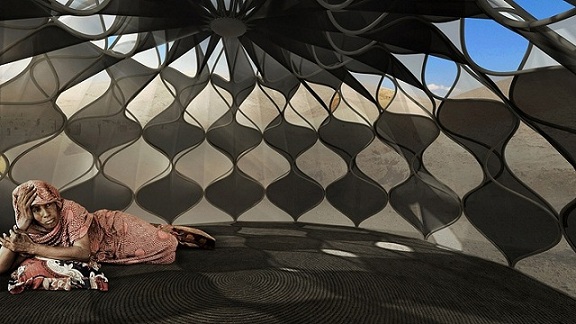 The project, Weaving a Home, won the Lexus Design Award 2013.
It has not been turned into a product, but Seikaly hopes that the plan will be made available for the refugees soon after it is finalized.
Sources: