Looking back at 2016, it's important to stop for a moment and reflect on the challenges as well as the achievements we had as Muslims so that we develop better understanding of the past year and draw brighter picture of the year to come.
Part of what Muslims achieved in 2016 is the excellence in charitable activities and having strong presence in many social/humanitarian works.
This article tries to take a glance at the Muslim active roles and contributions in development works in UK, US and Canada.
British Muslims
British Muslims are the most generous charity-givers, according to the UK's Charity Commission, which says Muslims gave about £100 million to charities over the month of Ramadan alone.
The news confirms Muslims' reputation as being the most generous religious group when it comes to charitable donations. The Charity Commission's Nick Donaldson described the £100 million as being the equivalent of £38 in donations per second, and spoke of "numerous people giving single donations of up to £30,000."
The Muslim Charities Forum, which consists of 14 UK charities, raised £45 million over Ramadan. The UK Muslim charity sector consists of about 2,500 charities in total.
According to a report by the National Philanthropy Council, Muslim charities raise £542 million each year. A 2013 ICM and Just Giving report found British Muslims give more than twice as much to charity than the average Briton.
During Christmas
During Christmas holidays, east London mosque, along with Muslim Aid has collected 10 tons of food for distribution to London's homeless over the holiday season.
Islamic Relief Scotland's Winter Warm campaign has distributed over 350 bags containing hats, scarves and gloves this year alone in Glasgow, Aberdeen and Edinburgh.
London Muslim students recently held a huge homeless drive providing medical checks, food and haircuts, as well as litter picking in the streets of the capital.
American Muslims
Muslim charity groups in the United States are too numerous to catalog, though the Bay Area Islamic Networks Group, the UMMA Clinic in Los Angeles, the Chicago-based Inner-City Muslim Action Network and Dearborn's ACCESS are examples of groups that provide crucial services and empower the underprivileged.
UMMA Community Clinic is the medical home to over 25,000 adults and children living in South Los Angeles. For its patients, UMMA is possibly the only source of health care providing access to high-quality healthcare for all, regardless of ability to pay.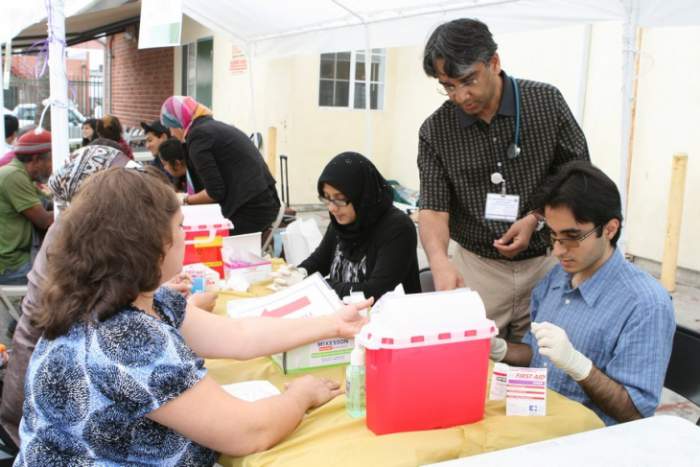 Flint crisis
In January 2016, |during the time of crisis in Flint, the Muslim community in Michigan has placed all hands on deck to assist ailing residents exposed to toxic water.
Right after President Obama declared a state of emergency over the region, Muslims have been donating bottled water to Flint residents for several weeks.
Non-profit groups and relief organizations have collectively brought more than 110,000 bottles of water for Flint residents.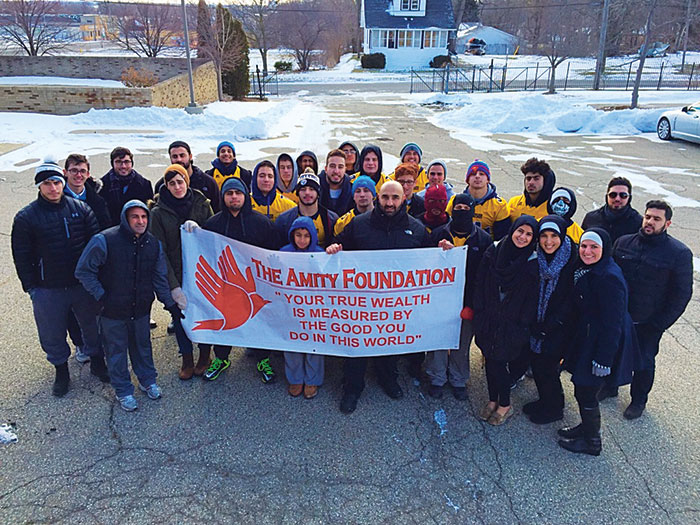 Canadian Muslims
Marking Eid al-Fitr, celebration on July 6 and concluding the fasting month of Ramadan, a Canadian Muslim charity gave $250,000 to the people of fire-ravaged Fort McMurray.
The Toronto-based International Development and Relief Foundation, founded by in 1984, was named one of Canada's top 25 charities by the Financial Post for their efforts to "provide humanitarian aid and sustainable development programs based on the Islamic principles of human dignity, self reliance and social justice."
In October 2016, West End Islamic Centre donated a remarkable $10,000 to The Mississauga Food Bank, as part of 2016 Mayor's Citywide Food Drive. An act of generosity that has been received with much praise by the city mayor and councilor, who urged others to follow the religious minority's steps.
Sources:
https://www.rt.com/uk/353216-muslims-charity-most-generous/
http://www.independent.co.uk/voices/muslims-christmas-charity-work-east-london-mosque-what-muslims-will-be-doing-a7492751.html
http://www.chicagonow.com/midwestern-muslim/2014/01/muslims-dont-contribute-to-america-think-again/
http://www.arabamericannews.com/news/news/id_11689/Muslim-Americans-lead-charitable-efforts-in-Flint.html
http://www.huffingtonpost.ca/2016/07/05/canadian-muslims-eid-fort-mcmurray_n_10819378.html