As Syria's civil war continues to rage for the sixth year, thousands of civilians are left in urgent need as winter draws in.
UN figures show nearly half a million people across Syria have fled their homes since the start of the year, not
including the latest displacement of people from Aleppo in northern Syria.
As the spotlight is focused on Aleppo, waves of displacements are continuing in other parts of the war-torn country, leaving families in urgent need of help as temperatures drop.
Aleppo
Since mid-December, thousands of people have fled eastern Aleppo to rural areas outside the city and to neighbouring Idlib, 37 miles (60km) away.
In a 17-day period up to mid-December, nearly 40,000 people in eastern Aleppo had already left their homes and thousands are still waiting to leave.
Now, hundreds of people are also fleeing the two besieged towns of Foah and Kefraya in neighbouring Idlib province.
Idlib
A heavy snow storm has hit northwest Syria, including Idlib, adding to the misery for thousands of families who have fled eastern Aleppo and for civilians who remain trapped.
An estimated 26,000 people have arrived in rural Aleppo and Idlib over the last few days, often with little more than the clothes on their backs, and many are now sleeping in unheated buildings or tents as temperatures drop below freezing.
The thousands of young children and babies among them are extremely vulnerable, particularly as many children are weakened and malnourished after months under siege.
The influx of displaced people from eastern Aleppo to Idlib and elsewhere has also raised new humanitarian concerns, particularly as the harsh winter sets in.
Lebanon
Conditions are also very difficult for Syrian refugees in Lebanon, especially in the winter months.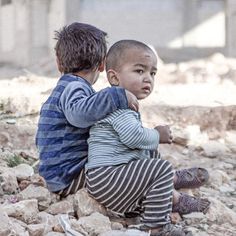 There are just over one million Syrian refugees in Lebanon. One-in-two live in substandard shelters like tents, garages, warehouses, unfinished buildings, and animal sheds. They require continuous support to maintain their shelters, especially during winter, which can be bitter and long in Lebanon.
More rain and snowstorms are forecast for the coming weeks. Some high-altitude towns in the Bekaa Valley and northern Lebanon have already been blanketed in snow.
"The most destitute population in Lebanon often have to resort to negative coping strategies to survive on the little resources they have. They cut down on meals, they stop proper treatment for health issues, and they borrow money to meet their expenses," said Mireille Girard, UNHCR's country representative.
Turkey
Turkey hosts over 2.7 million registered Syrians. The majority of them live in urban areas, with around 260,000 accommodated in the 23 refugee camps in the provinces of Hatay, Gaziantep, Kilis and Sanliurfa.
Jordan
In Jordan, over 600,000 men, women and children are currently trapped in exile. Approximately 80 percent of them live in urban areas, while more than 100,000 have found sanctuary at the camps of Za'atari and Azraq. Many have arrived with limited means to cover even basic needs, and those who could at first rely on savings or support from host families are now increasingly in need of help.
Iraq, Egypt
Iraq has also seen a growing number of Syrians arriving, hosting nearly 25,000, while in Egypt UNHCR provides protection and assistance to more than 100,000.