How one man and his tea house are trying to foster understanding and community in the US city of Cleveland.
Now living in Cleveland, US, Ayman Alkayali is no stranger to feeling like a foreigner.
Alkayali's parents were born in Palestine: his mother in Jaffa and his father in Ramla. During the Nakba, [the Palestinians' dispossession or 'catastrophe' of 1948], the family was forced to leave its homeland, moving to Syria. In time, Alkayali's family migrated to Kuwait and then to Tripoli in Libya, where his grandfather taught algebra, and Alkayali was born. "We were one of the first Palestinian families to move to Libya," he says.
When Alkayali was just 16, he left Libya to study German and architecture in Vienna, Austria. His older cousin was across the globe, studying engineering in Cleveland, Ohio. Alkayali asked him what the US was like and, enticed by what he heard, asked his father's permission to move there.
"I took a ceramics class, and I fell in love. I absolutely fell in love and thought, I'm going to pursue art."
Alkayali's decision to leave university and become an artist did not sit well with his family. His father, a civil engineer, and his mother, who worked at the UN, had always stressed the importance of an education.
But for Alkayali, art felt like a form of therapy. "I just wanted to express myself and release all of that pressure," he says.
Still, his father continued to stress the importance of education, so Alkayali decided to take courses at a community college. "I decided to go to business school, and be an artist," he says.
Today, he's thankful for his father's advice. "He was right and I was wrong. I'm glad that I did it; it gave me a sense of accomplishment," he says of his degree in business administration.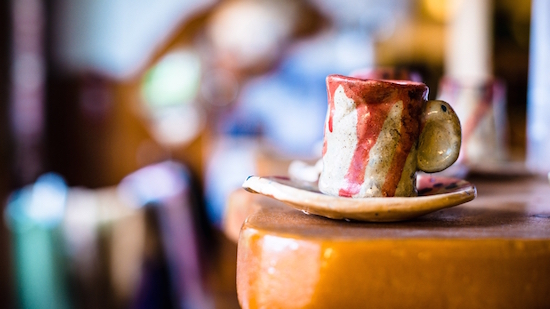 Alkayali continued to create art. "I used organic shapes, childlike art, you know, very colourful stuff. At that time Cleveland was very grey and brown; a dark-colour town."
He continued to struggle to show and sell his work. So he came up with the idea of opening a coffee house. Alkayali spent a year and eight months renovating his shop. Although he did much of the work himself, the renovations were expensive and just one month short of his grand opening, he found himself without enough money to buy a cappuccino machine.
A few friends suggested he sell tea instead. At that moment he had a realisation: "I can afford hot water. It will be a tea house."
Algebra Tea House opened its doors in August 2001. It was the first non-Italian establishment in the Little Italy neighbourhood. Stepping inside is to take a stroll through Alkayali's imagination. The front door, tables and shelves were handcrafted by Alkayali, and his paintings cover the walls. The smell of Middle Eastern spices blends with citrus from the orange peel resting atop a wood burning stove. Plants line the front window, soaking up sunlight. There are shelves of books on everything from poetry to Islamic architecture or Palestinian cuisine.
"Without the customers we don't exist: The thinkers and the photographers, and the sculptors and the writers; the poets and the civil rights activists. You hear different languages here, and people are not afraid of discussion."
Soon, local converts to Islam began asking him to teach them Arabic so that they could understand the Quran.
"Some of these guys came from civil rights backgrounds, so they went through the struggle of racism, apartheid and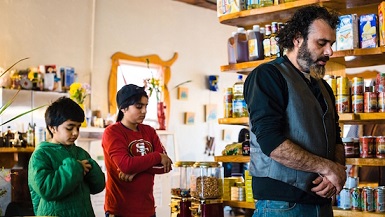 lynching. I mean there are people who are very dear friends of mine, brothers, who stood at the back of the bus and used different bathrooms. These people are here, guys who were beaten up for no reason. These guys are strong, and they are American."
Inspired by their dedication and strength, Alkayali began to view his faith in a new light. "My religion is so beautiful. I don't know why I didn't study enough."
The portrayal of Muslims in the media at the moment concerns Alkayali. "Our duty as Muslims is to do what we do
here, which is to promote good before evil. The media can sing hatred and war and fear all day long, but it comes down to this: 'What are you doing? How did you improve the neighbourhood? Are you taking care of your neighbours? Are you helping a person if he's not from your faith? If you see something wrong, are you stopping it? If you see something right, are you promoting it?'"
Fifteen years later, Alkayali feels that Algebra is a strong part of the community. "We have a very good reputation. We are part of the discussion if there are issues in the neighbourhood that need to be resolved. We are one of the oldest businesses in the neighbourhood; they accept us for who we are."
As the 2016 presidential campaign consumes the media, Alkayali has decided to distance himself from the day-to-day rhetoric of the candidates. "I just have to take care of the immediate needs around me – the community and my family, and when I do that, and everybody does that, then you have a great city, and a great state and a great nation."
Click to read full story