Adding to their endless suffering, a wave of snow and rainfalls has struck Lebanon, destroying camps of thousands of Syrian refugees in the country.
This is not the first time this happens, almost every year they suffer from harsh cold, heavy rains and snow.
"People are sick. Everywhere there is water. We cannot sleep at night. It has been three days like this," Juriya Ramadan, a refugee from the southern Syrian city of Deir Ez-Zor, told the UN refugee agency UNHCR.
Carrying her barefooted son across the freezing weather, the 34-year-old refugee woman wades through the murky, ankle-deep water that inundated her shelter in Lebanon's Bekaa Valley.
"All night we sit and watch the kids and we cannot do anything for them. Their situation is very bad," Juriya said.
Storm Norma has caused heavy rains and high winds that led to flooding in several towns and villages across Lebanon, which is home to nearly 1.5 million Syrian refugees, UNHCR reported.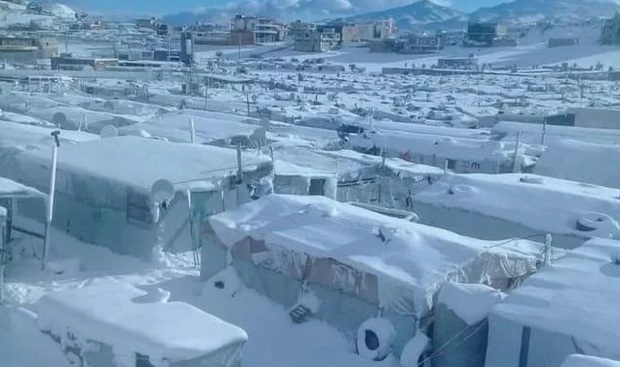 More than 360 sites hosting 11,300 refugees have been affected by the storm.
At least 600 Syrian refugees in the Bekaa had to relocate because of heavy floods or damage to their shelters.
Brutal storm has badly affected Syrian refugees in Lebanon's Bekaa. Tents damaged & destroyed; conditions freezing & uninhabitable. Evacuations from tents to temporary shelters ongoing.

Eight years in – conditions no better for refugees as international aid dwindles pic.twitter.com/5UWDQBzaJT

— Nada Homsi (@no_homsi) January 8, 2019
"Please, for the love of god, we need gasoline": In Lebanon, a winter storm has flooded Syrian refugees' settlements, leaving many without shelter, food, or dry clothing. pic.twitter.com/j9UEQOI5HS

— DW News (@dwnews) January 12, 2019
LIVE VIEW: The infrastructure in these #refugee camps is already fragile; refugee tents that provide shelters to entire families are collapsing due to the weight of the snow and the speed of the winds. Many people have died already. #StormNorma #Lebanon pic.twitter.com/z1jPCImSWx

— MedGlobal (@MedGlobalOrg) January 9, 2019
These photos show the devastating conditions Syrian refugees are facing in Lebanon after a brutal storm left their tents flooded with rainwater. Many people had to spend the whole night standing up and some families were stuck in the tents under the snow. pic.twitter.com/Ii5JH0lbxk

— The Syria Campaign (@TheSyriaCmpgn) January 8, 2019
Here are some trusted organizations through which you can support the refugees.
Source: UNHCR