This Ramadan, plan a bunch of fun crafts and activities for your family to complete. Here's a round-up of some beautiful, fun, and creative crafts, activities, and projects for Ramadan and Eid.
For some of these crafts and activities, you can have your kids work through them on their own. However, others may require a bit more hands-on help (especially for younger children).
Here are 10 crafts and activities for Muslim children to celebrate the month of Ramadan and celebrate Eid as well!
1 – Moon Sighting Binoculars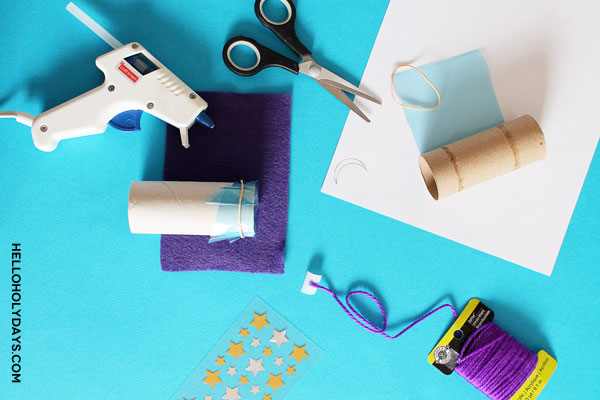 This beautiful Moon Sighting Binoculars Craft Activity from Hello Holy Days is simple to construct and carries a wonderful message.
At the beginning of the lunar month of Ramadan, Muslims know to start their fast when they see the first sliver of the new moon! Thus we embark on the holy month of fasting, prayer, and extra remembrance of Allah.
To celebrate this moon sighting, craft up this cute set of cardboard binoculars for a memorable moon-sighting experience.
2 – Ramadan Good Deeds Jar Craft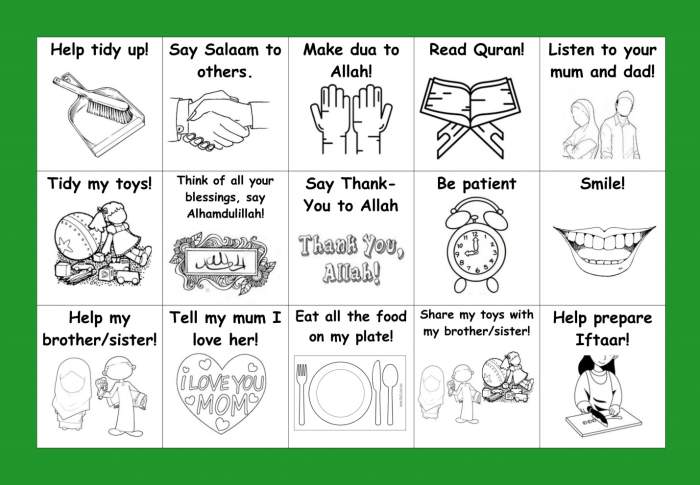 If you're looking for ways to encourage good habits in your children this Ramadan, look no farther than this beautiful Good Deeds Jar Craft from Mama Teaches Me. Your children can both decorate and design the jar while also filling it to the brim with all the good deeds they can do to accumulate extra rewards and blessings that month.
Use the free printable in both English and Arabic to make small folded cards of all the good deeds. You can also make your own good deed ideas. Have your children pick one card per day to do. You can make one jar for each child or make the good deeds a family effort.
3 – Color-Me-In Ramadan Kids Calendar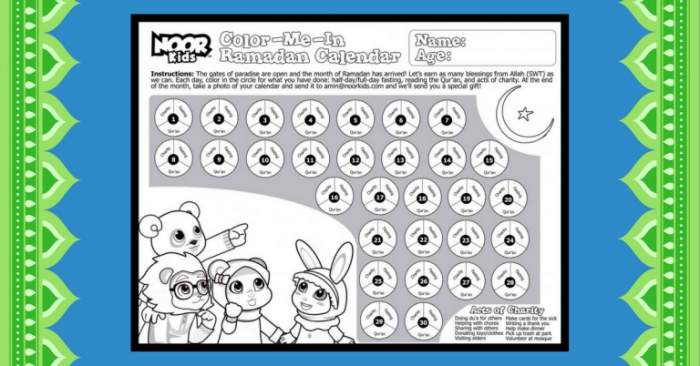 For young children who are just beginning to learn about Ramadan and what's expected of them in this holy month, this Color-Me-In Ramadan Kids Calendar from Noor Kids gets straight to the point.
Part countdown calendar, and part goal-tracking, children are encouraged to mark if they did any fasting, prayer, or charity each day. This way they can build up their good deeds and blessings for the month in anticipation for Eid!
The simplicity and focus of this Ramadan calendar focusing on three key habits makes for an easy and fun daily coloring and documenting their experience.
4 – Ramadan Photo Booth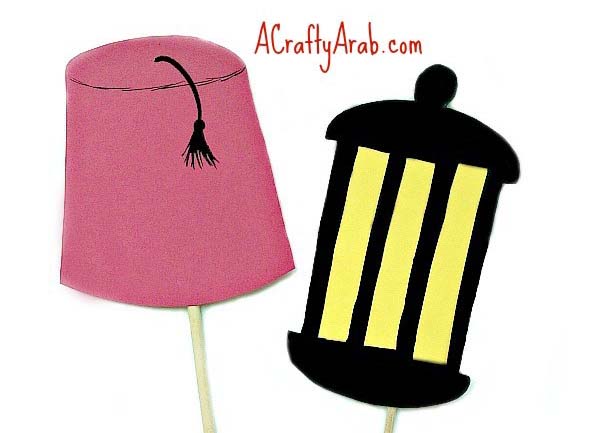 Ramadan and Eid are a festive time, and you can help spread the good cheer with this Photo Booth Tutorial and Activity from A Crafty Arab.
Make these fun Ramadan photo booth props to take to your next family gathering, halaqa meet up, or community iftar. The props include a mustache, fez hat, Ramadan lantern, picture frame, and other Ramadan inspired shapes.
Hold them up in your photos and selfies for a decorated and memorable Ramadan (or Eid) picture experience.
5 – Crafty Prayer Mats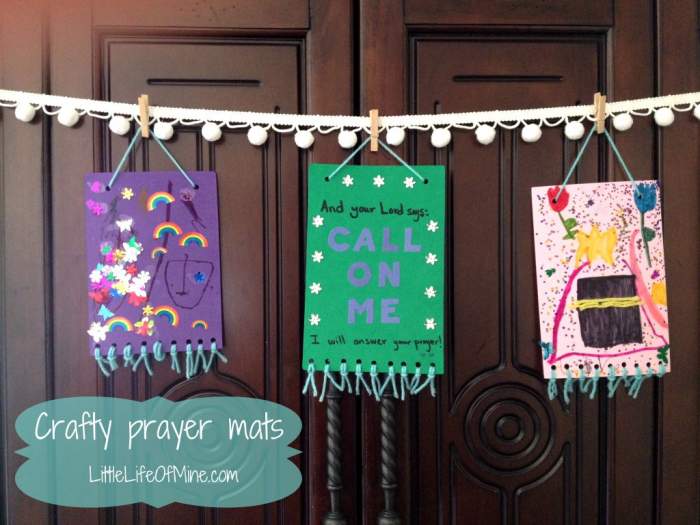 These decorated crafty Prayer Mats from Little Life of Mine are perfect for small hands to design and decorate. You can use many of the decorations, paints, and stickers you have on hand to put them together. You can also top them off with colorful scraps of yarn or ribbon for the contrasting side edge tassels on the top and bottom of the mat.
These make cute full-size keepsakes to use as wall decorations around the home each Ramadan. They can also be adopted and miniaturized as a mini version for a colorful, creative, and festive decorative garland to hang across the wall, doorway, or mantle place.
6 – Free Printable Ramadan Challenge Board Game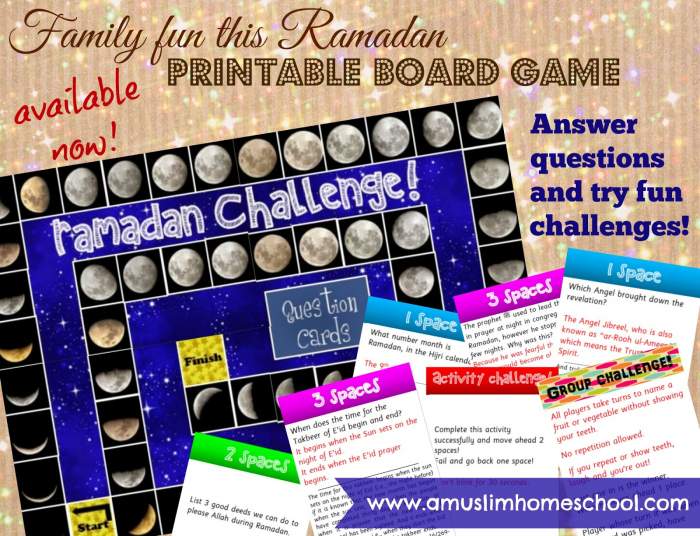 This free printable Ramadan Challenge Family Board Game from A Muslim Homeschool is a fantastic activity to play as a family while you patiently and anxiously await iftar in those first hard afternoons and evenings. The activity board is easy to print out and put together, all you need is paper, a printer, and some scissors to get the board and cards ready to use.
Take turns as a family in playing this fun and simple Ramadan game to pass the time in halal entertainment (and to earn extra blessings) in this holy month!
7 – Printable Eid Envelopes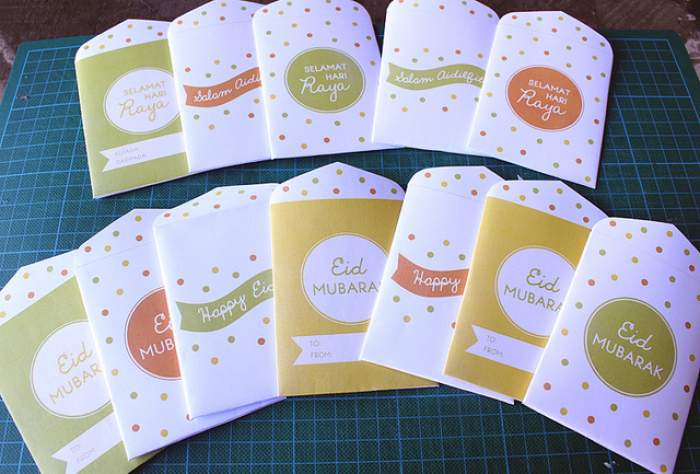 As the end of Ramadan nears and Eid approaches, it's time to decorate and prepare for celebration and festivities. These free Printable Eid Envelopes from In My Studio are available for download in both English and Malay. They're perfect for stashing your cash gifts for all the young children (and adults as well!) in the family.
The construction is super simple and all that's needed is paper, printer, scissors, and glue or double-sided tape to fix the envelopes together. You can print as many as you need and they are sure to be a hit!
8 – Henna Art Style Clay Hand Plates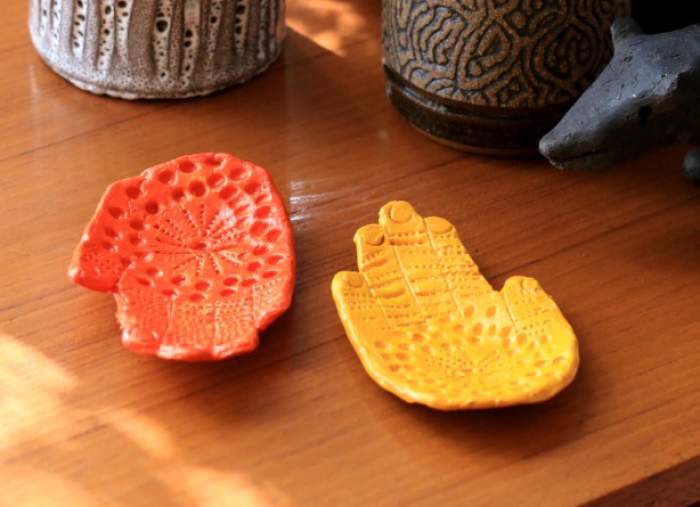 This is another cute Eid-related craft idea that is part activity and part keepsake. These henna art clay hand plates are sure to get pulled out each year as Ramadan winds down.
These small decorative air-dried clay bowls are reminiscent of Henna designs that many Muslims apply to their hands in time for Eid celebrations. Children can make their own hand-shape sized bowl for things like candies, change, hair accessories, or even bangles.
Use a stick to trace your hand in the clay and carve intricate henna-like designs. After the clay dries, decorate it with additional colorful paint or designs for added punch and pizazz!
9 – Printable Eid Card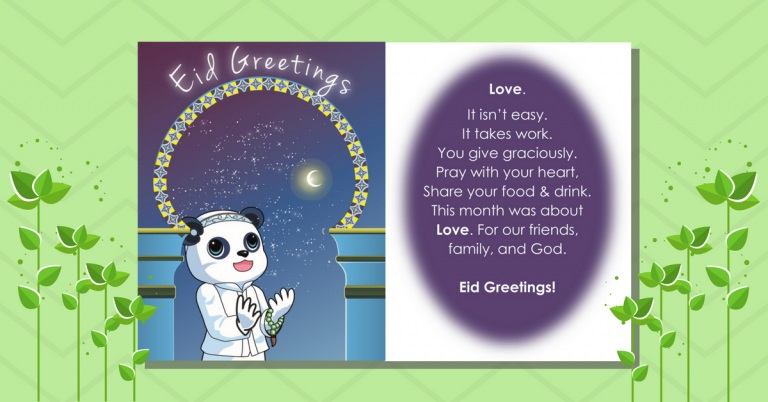 While you prepare your Eid festivities, remember your neighbors in your celebrations as well. This simple Free Printable Eid Card is a great way to introduce Ramadan and Eid to your non-Muslim neighbors. The card printable is easy to fold and assemble, while the accompanying message explaining the Muslim celebration of Ramadan and Eid gets into the details of why we celebrate and what the month means to us as Muslims.
For an extra sweet and special message, you can accompany the card with some homemade treats, sweets, cookies, or even a meal. Start those conversations with your neighbors that will lead to lasting friendships while fostering understanding and respect between different cultures.
10 – Eid Mubarak Bunting

This colorful and elegant Eid Bunting Banner Decoration from Education Enriched is a simple craft for families to put up together to celebrate the end of Ramadan and start of Eid.
The seven-page printable comes with multiple colored and patterned triangular downward-facing flags as well as two additional circular "Eid Mubarak" decorations.
So there you have it! 10 of the cutest and most fun crafts and activities you can do with your family this Ramadan. Hope you have a blessed month and a joyous Eid!
This article is from our archive, originally published on an earlier date and highlighted here for its importance.