Are your eyebrows going up thinking what is a hijab party? Hijab–wearing party, also known as takleef party or buloogh (puberty) party, is a new trend that's popular among Muslim families who want to celebrate their daughters' willingness to wear hijab.
Living in the West, it is not easy to go from not wearing a hijab to being covered, especially for young girls.
However, more and more brave young sisters, as young as 10 to 12, are deciding to wear the Islamic head covering. And no, most of them aren't forced.
A Hijab Party celebrates halal choices
In many cases, they are one of the few in the community and at their school to take that bold step.
Many of these girls also grow up without having a birthday party every year like their friends, so parents do something special to celebrate this monumental event in a girl's life when she decides to wear a hijab.
The party does not have to be extremely elaborate or expensive to make a girl feel special and loved.
In my opinion, as long as these hijab parties are low-key with close friends and family and without losing sight of the important motivation and reward of wearing hijab—not the party, not the gifts, not the desserts, not the recognition, but ONLY the pleasure of Allah—the parties are a great opportunity to foster support for young hijabis.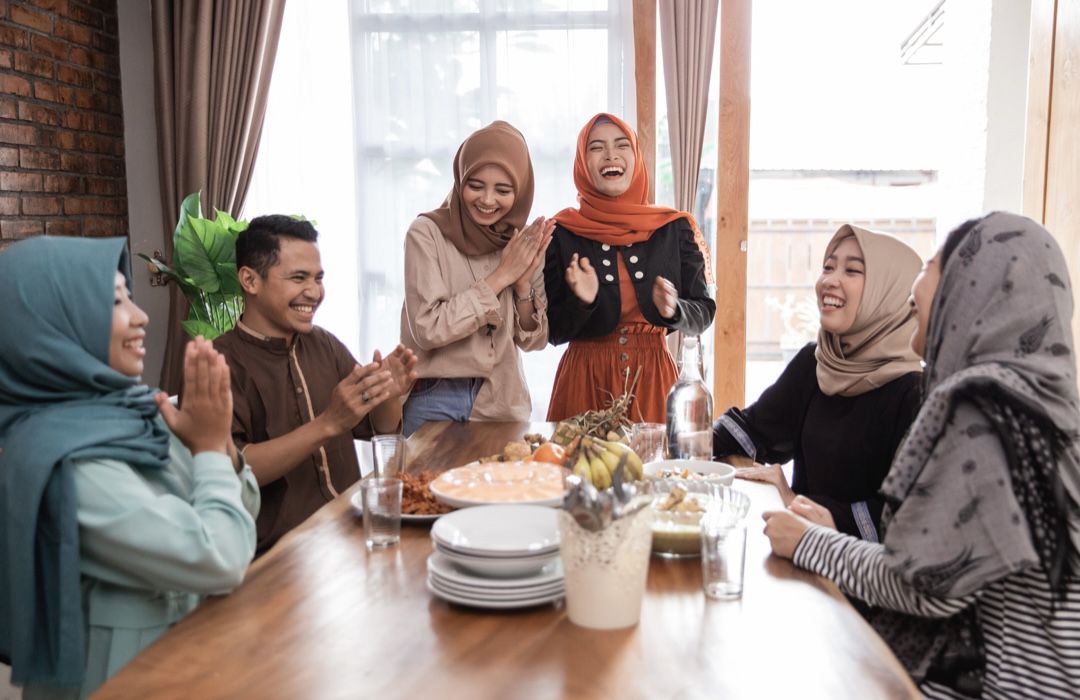 Islamic schools and many families, mainly from Arab background, organize Hijab parties for young Muslim girls around the girl's ninth birthday to prepare her for regularly wearing hijab and praying by the time she turns ten years old.
For many, the celebration happens when a girl is older and/or has made her own commitment to wearing the hijab.
Popular Lebanese Arab-American modest fashion and lifestyle blogger, Heba Jay, had a hijab wearing party when she was nine years old. She says,
I wore hijab in the 90's…it (the party) was a very simple get together with family, friends, cousins, etc. I wore a nice dress and hijab for the first time, and my parents bought me a cake to celebrate with everyone! I was so excited and happy to finally wear hijab like my mom, aunts, and cousins."
Support our young women
From Heba's experience, it is apparent that the celebration helps girls understand how brave they are for taking this step in a world full of distractions.
It also helps them get excited to start a new chapter in their lives.
A quick invitation to close family, friends, and cousins, decorations in her favorite colors, festive cakes or cupcakes, and games are sure to make any girl feel special.
One easy and meaningful game might be the "Who is your mahram?" game.
Write down different family members' names on small paper and have each girl take a turn pulling one out and reading it to the new hijabi girl—"Is your cousin Abdullah your Mahram?" Such games are fun and educational.
Since I've never attended such parties, I reached out to the New York-based event decorating company Firefly Co.
They have provided some awesome decoration inspiration, in case any of you ever want to throw such a party for a friend, daughter, niece, etc.
Let's hear what they have to say:
We adored every second of planning the "Beautiful Hijab Slumber Party" for an adorable little hijabi. Her parents and family were so proud of her for choosing hijab, as were we!

While planning the party, we came across this awesome backdrop by Handmade Mood and just knew it would be the perfect inspiration and starting point to create a party that reflected our guest of honor's strong, shining personality and glam style."
Some more ideas
Popcorn boxes were adorned with a mini heart and set up for each guest to enjoy while watching a late-night movie.
Two Geronimo balloons were dressed up with cascading fringed streamers in shades of pink, pom-pom trim, and mint glitter hearts.
Of course, no party would be complete without an ice cream sundae bar and homemade waffle bowls.
The toppings were all lined up with thread-wrapped wooden spoons so the girls could build their own tasty creation.
A gorgeous ruffled cake with a little hijabi on top and beautiful watercolor swirled cookies were served!
At the end of the festivities, every girl went home with embellished hijab pins packaged in cute little handmade pin holders.
Have you attended hijab parties before? What are your thoughts about such parties to mark the beginning of wearing hijab?
This article was originally published at http://www.withaspin.com