Years ago, when you were a child and your own parents told you to go and play, many would either head outside into the garden or onto the street to play.
We would even just grab a board game from the cupboard.
In today's world, you hardly see children playing a board game or playing outdoors, whether it be engaging in hopscotch on the pavement, riding a bike, or even an easy game of catch.
And it's not because of the weather.
Many children happily choose to stay indoors and turn on their devices, be they a smartphone, tablet, laptop, or gaming console.
In fact, have you had a proud parent show you how their preschooler can navigate the latest electronic gadget?
Is it a sign of the times, or does it need our attention?
Given that a majority of devices require a swipe of the finger to operate, children's finger muscles are not being developed, according to Sally Payne, the head pediatric occupational therapist at the Heart of England Foundation NHS Trust, UK.
Brace yourself
So, what can we do as parents to resolve this issue?
You must manage your preschooler's screen time.
No one said it was going to be easy, as preschoolers are at that age where they cry for no reason, so initially be prepared for tantrums.
In order for us to successfully manage our children's screen time, it means managing our own time too. Childrearing can be hard and challenging work.
For many of us, a device means your child is occupied and within view, so you can see them while you do other activities.
Even though you may load Islamic apps or educational programs on the device, researchers have stated that unlimited, unsupervised screen time is a no-no!
So, how do you replace screen time until you are able to sit down and be part of the experience?
Well, simply include your preschooler in your activities until you can have one-on-one time.
Kitchen exercises
Cooking in the kitchen is great because your preschooler can slot right in with what you need to do.
Have your preschooler sit with you and help you stir, mash, chop with a butter knife, scoop, and pour, or occupy him with other things: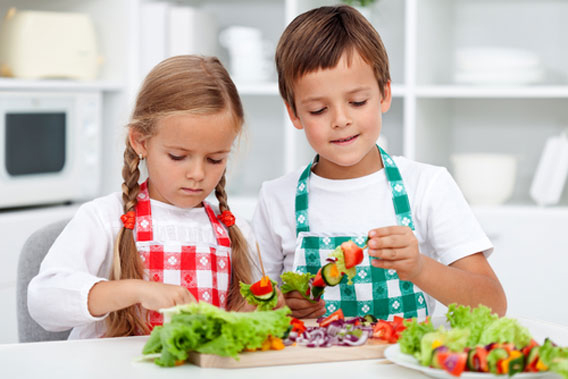 Tearing paper: give your preschooler old paper to tear up.
This may seem too simple, but the hand manipulation to hold and tear is a real skill builder and great fun for them.
Play dough: get out some tubs of play dough. They not only use their motor skills to form, bash, roll, and pinch the dough, but they also get to use their imagination.
Will your preschooler make food or create a snake? What will you make?
Bubble wrap—who doesn't like popping bubble wrap?
This is actually of great use for your preschooler's finger strength; being able to squeeze the air out of those tiny bubbles will give your child super-motor skills.
Rolling pin: make a little dough out of flour and water and sit your child at the table to roll out the dough.
He will learn how to grip the rolling pin and push and pull it. They love collecting the dough back up and flattening it out again and again!
Living room exercises
Toy box: a box of rotating toys can easily replace unsupervised screen time. Building blocks are a great finger-muscle activity.
Your child will also learn how to balance the blocks, which will undoubtedly be stacked at some point in their development.
Cars, dolls with movable limbs, assorted kitchen items. To catch your child's attention, regularly swap out the contents of the toy box with other toys you keep stored away.
Coloring books—some good old-fashioned coloring will be a charm. Your preschooler learns to hold a crayon before even going to school and how to work it within coloring page lines.
Get yourself an adult coloring book and color along with your child for a little downtime for yourself too.
Balloons and bubbles – while I do know some children are scared of balloons popping, most go crazy for them.
Both balloons and bubbles encourage preschoolers to run, chase, and try to catch these air-filled joys. It builds good motor skills, coordination, and balancing skills.
Furniture jungle: the living room is the best place for some jungle construction.
Pull off those couch cushions, bring a sheet and some pillows, and make a great soft, spongy jungle that they can crawl through and hide in. This encourages crawling and body coordination.
Outdoor exercises
Now, we get to the great outdoors, where general exercise is easily gained. Exercise that involves the limbs—legs, arms, the head, or whole body movement—is called "gross motor skills".
Children learn to run, skip, hop, and jump as part of the natural process of play, and it is beneficial to their everyday skills.
What is learned through children's play?
Most children will learn to balance on one leg by hopping, which will help them get dressed into their pants. A simple game of throw and catch develops their eye-hand coordination skills.
Playing on park apparatus will help your child learn to climb and integrate multiple movements via their legs and hands.
If you have space for a sandbox, children love to spend hours working their motor skills in unlimited imaginative sand play.
There are many options to keep your little one occupied without putting a device in their hand at the early stages of their development.
Encourage activities, toys, and games that are intended to stimulate your preschooler to use their hands and, in particular, to develop their fine motor skills.
Now, ask yourself: Is it really an achievement that a toddler can navigate the latest electronic gadget yet doesn't know how to hold a crayon?
May Allah (SWT) guide us.
The article is from our archives.
References:
ox.ac.uk/news/2017-12-14-children's-screen-time-guidelines-too-restrictive-according-new-research
inhabitat.com/inhabitots/technology-and-kids-startling-statistics-about-addiction-to-iphones-screens-that-every-parent-should-know/
healthline.com/health-news/too-much-technology-children-with-weak-hands