Bridges foundation, headquartered in Cairo, Egypt, is initially a foundation that aims at training Muslims, through workshops, on how to become better public speakers when presenting Islam, and how to better communicate with non-Muslims.
However, Bridges Foundation gave a recent workshop about marriage, presented by Mohamed Sharaf El-Din, the author of "The Sacred Bond-A Book about Love, Relationships, and Marriage".
The Sacred Bond, which was the name of the workshop, discussed all issues about marriage, starting from the early stages of choosing a partner to the engagement, marriage contract, and finally the marital life.
The engagement phase, which is a very crucial stage, is worth reflecting on. It has become very common in the Egyptian culture, nowadays, to hear of engagements being broken off.
There are many common reasons behind that, such as family issues, economic obstacles, or simply the couple not getting along. But it's important to know that there are ways to avoid getting into a relationship that will eventually fail.
First, before either the man or women seek a partner they need to know why they want to get married. It might sound rather odd as it seems obvious why anyone would want to get married, but actually to ensure a successful marriage, you need the right reasons to get married.
Societal pressure or fear of aging should not be the sole motives for seeking marriage. Instead, you need to understand that marriage is actually a tool for happiness and way to enter Jannah, if you choose the right partner.
You should seek a partner that will help you first and foremost develop yourself and reach your goals and vision in life. Hence, the checklist you have for your ideal partner should not start with wealth or looks, but most importantly with a person who shares your vision in life.
Initially, Allah created us to worship Him, and to reconstruct earth, so choose a partner that will uplift the level of your Iman and support you in excelling in your career.
If you choose accordingly, then know that with that partner you will have a happy life, full of love and respect, and grow old together until you part in the earthly life to meet in the hereafter inshAllah.
From the "The Sacred Bond" workshop, three steps for a successful engagement:
1- Know your partner: It is important during the engagement to know the nature of your partner. You should learn about their spending habits, how they treat their family, eating and drinking habits, how it is to travel with them and so on.
Because our Islamic values limit the relationship between the partners during the engagement, it might be difficult to directly get to know your partner in all these aspects.
So, you should seek trusted people who have been around that person and learn from them about your partner. This is not spying, or investigating your partner. Simply, it is vital to learn about the habits of a person that you might possibly spend the rest of your life with, so if there are things you can't tolerate then it becomes your choice to continue in this engagement or not.
2- Don't put unrealistic expectations for changing the other: Many people try to oversee some serious bad habits or problems in their partner, assuming that they will change after marriage or that they would be able to change the other.
Consequently, this causes great conflicts during the engagement as one of the partners, or both, attempt to create of their partner the ideal picture they had in their mind.
It is important to understand that Allah has not created a single human being perfect, so we need to accept and acknowledge that our partner will have some defaults. The main point though, is to differentiate between "serious" defaults such as being stingy or treating those below with arrogance, which could be intolerable things, and between "mild" defaults such as sleeping late, or not always being understanding, which are things you can accept or eventually change in your partner.
3- Find a common vision and agree on it: After making istikhara, and being certain that your partner is "the one", and you feel comfortable with them and satisfied with their personality and looks, that's when you start talking about your vision in life. Before talking about materialistic things, you need to set a common vision that you and your partner will build your family on.
This common vision raises questions such as " Why are we building a family? What are our personal goals, what are the goals for our children? What will be the responsibility of each of us towards our family? What will be our priorities in life?" Based on all this you will be able to determine many things in the marriage such as your relationship with others, materialistic issues such as how much you want to spend on the house, the dowry, the wedding…etc.
How to Avoid Unnecessary Fights?
Tension and quarrels are very common between partners during the engagement period. Both partners are getting to know each other, and hence there is still a lot they are learning about their relationship. However, sometimes people find themselves fighting over very senseless things that seem initially pathetic. This can happen because of envy.
Sometimes, people find it very hard to believe that others might envy them or wish them ill will, or desire for their engagement to break off, but unfortunately it's true and it does happens. A hadith narrated by al-Daylami says" Conceal the engagement and proclaim the marriage".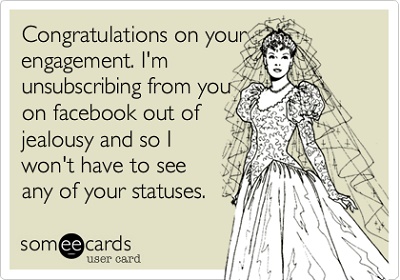 It is important to realize that not all your friends or acquaintances have been able to find "their someone" yet, and in many cases it can become a very sensitive issue, especially between girls. Hence, be considerate when talking about your fiancé with others, and avoid over telling stories about the sweet things your partner does for you.
Even with your friends who are engaged or married, this can cause sensitivity. Talking too much about the sweet or romantic things your partner does for you can ignite comparison. Some might have partners who don't do similar things, because they can't afford it, or they're perhaps not as creative. So unintentionally, your stories can even cause problems between other couples, who might compare their relationship to yours.
Another way to avoid envy, is something that might not have been an issue a couple of years ago: the usage of social media. It has become very common for people to post on their social media accounts, such as Facebook, pictures, and stories about their relationship. You can't always control who sees these pictures, and this might ignite feelings of jealousy and envy from both, people that you know and don't know.
How to Maintain Allah's Barakah in Your Engagement
The key for Allah's everlasting Barakah is to maintain a pure relationship with your partner. It can be very challenging not to cross the line, whether verbally by intimate words, or physically through holding hands and similar things, but it's very important to know that crossing the line reduces and can eventually remove Allah's Barakah from your marriage.
Think of the verbal and physically intimate relationship as a credit card. It has a limit, and it is meant to be spent starting day one in your marriage.
If you start spending from it before marriage, you are taking away from the credit, and it cannot be replaced. So think very carefully of how you want Allah to bless your marriage, and remember when you or your partner get weak, the more you save the credit the more you will have to spend during your marriage.