A wild party, a special cake, and a professional photographer. We're not talking about a regular wedding party here; this is the new trend in divorce celebrations!
A couple of decades ago, divorce was a big catastrophe and a reason for shock and shame; now, with the increasing divorce rates worldwide, it seems the trends are changing drastically, not just to help people take it in stride and move on to a new life, but to even turn divorce into a reason for celebration.
People of my generation who are today in their 30s and 40s grew up among married couples who stayed together for life, in sickness and in health, for richer and for poorer, until their last breath. But as we reached adulthood ourselves, all of us knew at least one divorced couple, if not more, and many found themselves either single past their 30s or divorced.
As society magazines would describe it, "divorce is the new wedding." It's become another milestone in some people's lives, just like birthdays and graduations. It could even be a reason for joy and celebration, because some couples have suffered for years in dysfunctional relationships and are excited to finally break free. While some are happy with their huge divorce settlements, other just don't want to face the prospect of gloom and loneliness so they party and pretend everything will be alright. It helps alleviate the stress of the situation, they insist.
Booming Business
Meanwhile, business vultures spotted a potentially lucrative market as usual, so they got busy creating a new industry targeting the ever-growing market segment. Suddenly, even divorce had a commercial value.
In the UK, major department stores are offering gift registries for divorcées, just like weddings. Why? Because nobody has two toasters, they say, so those who will have to move out of the marital home will discover they lack many essential appliances and tools and would be happy to furnish their new homes with gifts from friends.
In the US, party planners offer bachelorette-style parties for divorced women and their girlfriends, complete with "just divorced" banners, black veils, and special cakes. There are even wedding ring "coffins" to bury the symbol of marriage, divorce cards to "congratulate" the divorcée, and divorce party invitations and announcement cards to help her making the news public and save her the pain of answering questions.
Because of the quality and variety of parties it can offer, Las Vegas is regarded as the "divorce capital of the world." There's even a band specialized in entertainment for divorce parties, with feel-good songs like "I Will Survive" and "Hit the Road Jack." And recently, the first novel with the divorce party as a central theme has been written.
In Italy, professional photographers are offering a special service of documenting divorce. They argue that just like any other important milestone, people would want to capture the events on film and keep it in a special album.
European jewelry designers caught the wave as well by offering special divorce rings, which look like regular wedding bands but with a gap in the center symbolizing separation.
In Japan a salesman invented a new "divorce ceremony" to officiate the couple's separation, just like they officiated their union. The ceremony includes smashing the wedding ring with a hammer in front of friends and family.
And in Egypt, some braved social traditions and created divorce clubs and parties to act as support groups for people going through the painful experience and offer an opportunity for potential couples with similar circumstances to meet, in hopes of starting new marriages. Many women I talked to from different backgrounds seemed to think that second marriages are always happier and that a divorcée, especially one without children, has better chances for marriage than women who passed the marriage age and is still single , says a single woman in her late 30s who has never been married.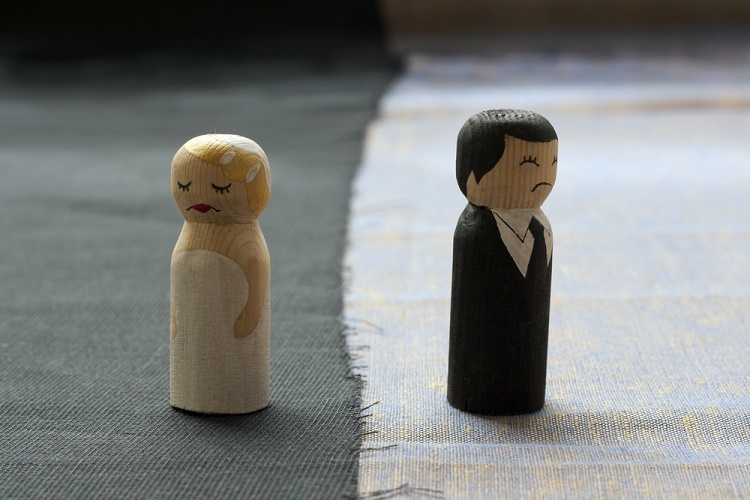 The Middle Road
Facebook offers a platform for promoting the offerings of divorce party planners. It has also becoming the tool of choice for separating couples to announce the news by changing their relationship status from "married" to "single" and for women to reclaim their maiden names.
With such growing demand, divorce sections on popular websites are becoming a standard feature. They offer tips and advice for dealing with the aftermath of separation, starting new relationships, and taking care of the kids.
To me, all this was just amusing, like the crazy news we encounter in the media every day, until an eye-opening post from a Danish blogger caught my attention. She described her personal experience of suffering the confusion of a very strange "extended family" made up of her ex-husband and his new wife, as well as her current husband and his first wife, and half a dozen kids who resulted from the complex relationships among all the couples.
All of them are expected to meet regularly and socialize as a "family" to prove they're open and "civilized." She describes how emotionally distressing and confusing this was for her as a woman. But she didn't offer a way to change it; she just chose to endure the pain in silence. Her sad words made me think of the institution of marriage in Islam in comparison to the relationship chaos in a post-modern world.
Marriage in Islam is not as rigid as a Catholic marriage, where the couple gets stuck for life even if it's a totally dysfunctional relationship; and yet, it's not as shapeless as an open marriage, where the relationship can include new members along the way without anyone bothering about the complexities.
As the middle road, Islamic marriage is firm and structured, yet offers the option of respectable divorce as a way out. When all else fails to keep it a happy union, divorce is the last resort. It's also a solution when the sacred bond is threatened by hatred, cheating, violence, or disrespect from either spouse. In the Qur'an, God has promised to make both spouses happy and provide for them from His bounty if they honor His limits even as they seek separation. So, although it's not exactly a happy occasion, it's not the end of the world either, because God Himself is involved to soothe and support.
However, I won't be the least bit surprised if the divorce celebration trend catches on among Muslims as well. We're not exempt from being affected by the crazy trends of consumerism, and sadly, it doesn't seem that marriages are getting any stronger in a world going increasingly insane.
First published: March 2012