We hope you'll enjoy our Ramadan recipes for this week!
The recipes are by Yvonne Maffei, founder of the Halal Kitchen website.
Stay tuned for Eid cookies recipe.
Rack of Lamb with Dates & Moroccan Spices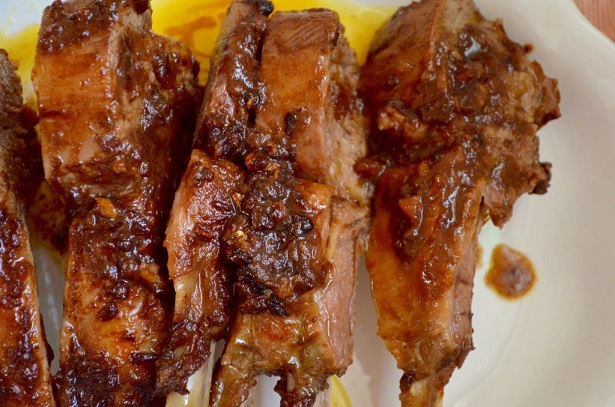 Ingredients
•¼ cup Medjool date puree (alternatively, 1 cup pitted and chopped Medjool dates)
•2 tablespoons olive oil
•1 ¼ pound rack of lamb
•2 tablespoons onion, minced
•2 teaspoons fresh ginger, minced
•1 clove garlic, crushed and chopped
•½ teaspoon salt, or to taste
•¼ teaspoon turmeric
•½ teaspoon ground cumin
•1 cinnamon stick
•1 teaspoon cardamom pods
•A pinch of saffron in 1 cup water
•Ingredients for the Date Puree (optional)
•25 Medjool dates
Instructions
1-If preparing your own date puree, do this ahead of time as it must go into the pan as the lamb is searing in a pan over the stove top.
2-To make your own date puree, remove the pit from the dates and add them to a pan of boiling water that covers the dates completely. Let boil on medium-high heat for 40 minutes, or until the mixture has thickened and you see only about 1-2 tablespoons of liquid at the bottom of the pan. Use a food mill to completely grind the skins into the mixture. Set aside or chill until ready to use. Lasts about 7-10 days in the refrigerator.
3-To prepare the lamb, preheat the oven to 450 degrees F. Make sure the lamb is completely dry of any liquids before cooking. Gently heat the olive oil in a large oven-safe saute pan. Add the rack of lamb, fat side down and increase the heat to medium-high. Sear the meat on one side until it has browned, about 3-4 minutes. Turn the meat over and repeat. Once it has browned on the other side, add the onion, ginger and garlic to the pan. Use a wooden spoon to move the ingredients around so they don't burn. Add the salt and spices to the pan, too. To a cup of warm water, add the saffron. The water should quickly turn to a golden yellow color. Add this liquid with the saffron threads to the pan.
4-Give the pan a whirl to make sure all the ingredients are evenly spread out. Cover and place the pan in the heated oven. Roast for 40 minutes, removing the cover for the last 5-7 minutes. Once finished, remove the pan from the heat and cover again for 10 minutes before cutting so that it retains all of its juices. To serve, cut each piece vertically from each of the bones in the rack.
Ground Chicken Stuffed Eggplants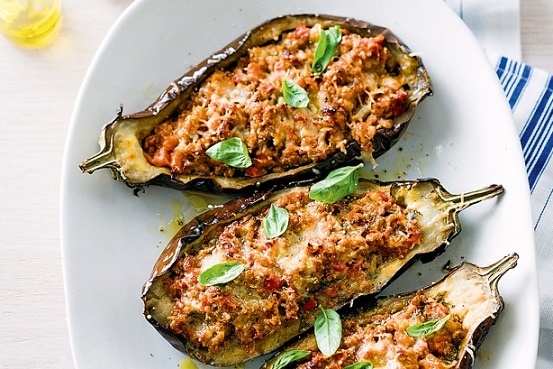 Ingredients
•2 large or 4 small eggplants
•2 tablespoons extra virgin olive oil
•1/4 cup yellow onions, minced
•2 pounds ground chicken (or beef, lamb, etc.)
•1/2 teaspoon ground cinnamon
•1/2 teaspoon sea salt
•1/4 teaspoon black pepper
•2 tablespoons pine nuts (optional)
•1 32 ounce container Saffron Road Culinary Classic Vegetable Broth
•Fresh parsley leaves for topping
Instructions
1-Cut the eggplants in half and using a spoon, scoop out all of the flesh. Roughly chop it into small cube-size pieces and set aside.
2-Gently heat the oil in a saute pan.
3-Add the onions and cook until translucent, about 3-4 minutes.
4-Raise the heat and add the chicken, the chopped eggplant, and the spices. Stir until all the chicken is mostly cooked, about 6-7 minutes. Add half of the container of the Saffron Road Culinary Classic Vegetable Broth. Continue cooking on medium high heat until the broth has mostly evaporated, about 5-6 more minutes. Set aside to cool slightly.
5-Preheat the oven to 350 degrees Fahrenheit.
6-Place the eggplant shells in a semi deep oven-safe baking pan. Add the meat mixture to each shell, then top with fresh parsley. Drizzle each with a bit of olive oil.
7-Add the remaining Saffron Road Culinary Classic Vegetable Broth to the bottom of the pan.
8-Bake for 30-35 minutes, uncovered, or until you see that the meat has significantly browned on top. Remove and let cool slightly before serving with rice, potatoes or pasta.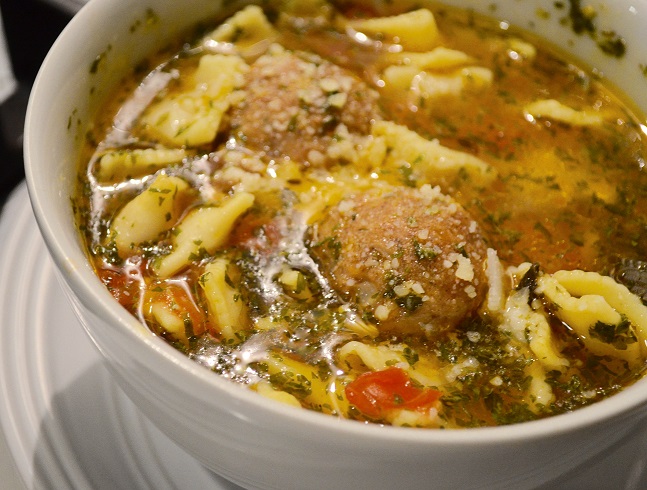 Ingredients
•For the Meatballs
•1 pound ground turkey
•1 1/2 teaspoon sea salt
•1/2 teaspoon freshly ground black pepper
•1 tablespoon dried parsley
•1/2 cup breadcrumbs
•1/2 cup Parmesan cheese
•1 egg, slightly beaten
For the Soup
•1/4 cup olive oil
•1/2 cup diced onion
•1 tomato, finely chopped
•4 cloves garlic, minced
•8 cups water
•2 Knorr brand bouillon cubes
•1 pound dried mini raviolis
Instructions
1-Preheat the oven to 350 degrees F.
2-In a medium size bowl, combine all of the ingredients for the meatballs. Roll into small to medium size balls and place on a parchment-lined oven tray. Bake for 30 minutes then remove from oven and set aside.
3-In a large Dutch oven over medium heat, warm the oil. Add the onion, tomato and garlic. Saute until soft and translucent. Add the meatballs, then the water. Next, add the Knorr brand bouillon cubes.
4-Bring the liquid to a boil, then reduce the heat to medium. Cover and let cook for about 30 minutes.
5-Remove the meatballs to bowl and set aside.
6-Add the ravioli or pasta and cook according to the instructions on its packaging, over medium heat.
7-Serve in individual bowls with 2-3 meatballs per bowl. Add fresh Parmesan and freshly chopped parsley, if you have it.
Dates With Cream and Chopped Pistachios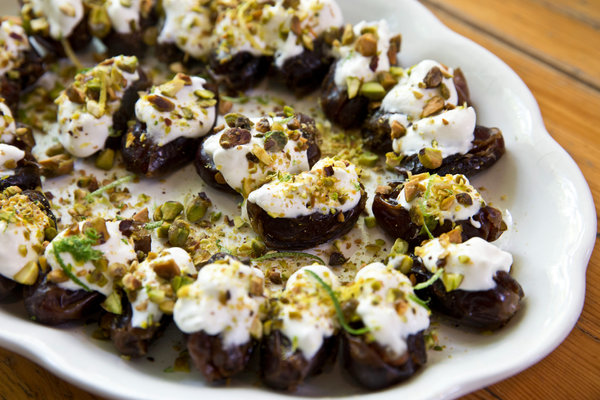 Ingredients
•12 large medjool dates
•24 whole almonds (preferably blanched), walnuts or pecans
•3 to 4 tablespoons crème fraîche
•Freshly grated zest of 1 lemon or 1/2 orange (about 2 teaspoons)
•1 tablespoon coarsely chopped pistachios
Direction
1-Rinse and dry the dates. Make a clean cut along the side of each date to open, and remove the pit.
2-Stuff each date with 2 whole almonds and lightly pinch closed. (The recipe can be made up to this point up to 2 days in advance. Store in an airtight container.)
3-When ready to serve, arrange dates cut sides up on a plate or platter. Drizzle on the crème fraîche, making a dollop on each date. Sprinkle on the citrus zest, then the chopped pistachios. Serve immediately, as finger food or on plates with a small fork and knife.
Easy Bulgur & Vegetable Salad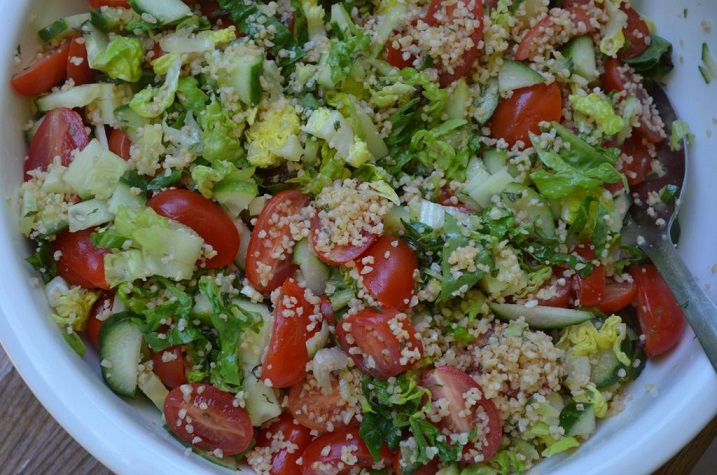 Ingredients
•1 cup bulgur wheat (small grain)
•2 cups Romain lettuce, finely chopped
•1 cup cherry tomatoes, cut in half
•1 cup Persian cucumbers, cut in half and thin
•2-4 tablespoons chopped parsley (optional)
•2-4 tablespoons olive oil
•Sea salt, to taste
•2 tablespoons lemon juice, or to taste
Instructions
1-Soak the bulgur in water to cover. It should plump up in a few minutes. When it has doubled in size, squeeze out all of the water by the handful and place the bulgur in a serving bowl.
2-Add the tomatoes, cucumbers and parsley. Drizzle with olive oil, add the salt and lemon juice. Stir and serve.
Note
If preparing this salad ahead of a party or gathering, prepare everything but don't add the oil, salt and lemon juice until just before serving, otherwise the salad can become soggy. Keep chilled until serving.
Banana Date Cups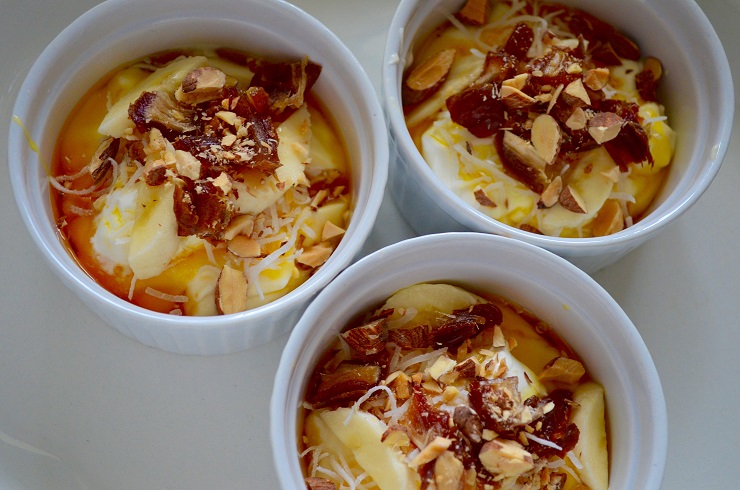 Ingredients
•2 cups naturally flavored yogurt
•4 tablespoons creme fraiche (optional)
•1 banana, cut small
•4 tablespoons salted almonds, roughly chopped
•4 large Medjool dates, pitted and roughly chopped
•Shredded coconut or coconut flakes
•4 teaspoons honey
Instructions
1-To four small serving cups, divide the yogurt into each parts.
2-Add one tablespoon of creme fraiche to each one, too.
3-Add the cut banana in equal parts, then one tablespoon of the chopped almonds and the dates to each cup. Drizzle a teaspoon of honey in each cup then sprinkle with the coconut flakes and serve.