During `Eid ul Adha Muslims around the world celebrate these holy days through sacrificing an animal in remembrance of the story of prophets Ibrahim and Ismail, Peace be upon them both.
The sacrificed animal, or Udhiyah, can be a camel, a cow or a sheep. But many Muslims sacrifice a sheep in the manner of prophet Ibrahim (peace be upon him).
The Family team of AboutIslam.net has tried to find the most delicious recipes for cooking lamb meat to help housewives and mothers with some variety in their Eid menus.
If you have your own special recipe, go ahead and share it with us in the comments section below.
Grilled Lamb with Brown Sugar Glaze
Ingredients
1/4 cup brown sugar
2 teaspoons ground ginger
2 teaspoons dried tarragon
1 teaspoon ground cinnamon
1 teaspoon ground black pepper
1 teaspoon garlic powder
1/2 teaspoon salt
4 lamb chops
Directions
In a medium bowl, mix brown sugar, ginger, tarragon, cinnamon, pepper, garlic powder, and salt. Rub lamb chops with the seasonings, and place on a plate. Cover, and refrigerate for 1 hour.
Preheat grill for high heat.
Brush grill grate lightly with oil, and arrange lamb chops on grill. Cook 5 minutes on each side, or to desired doneness.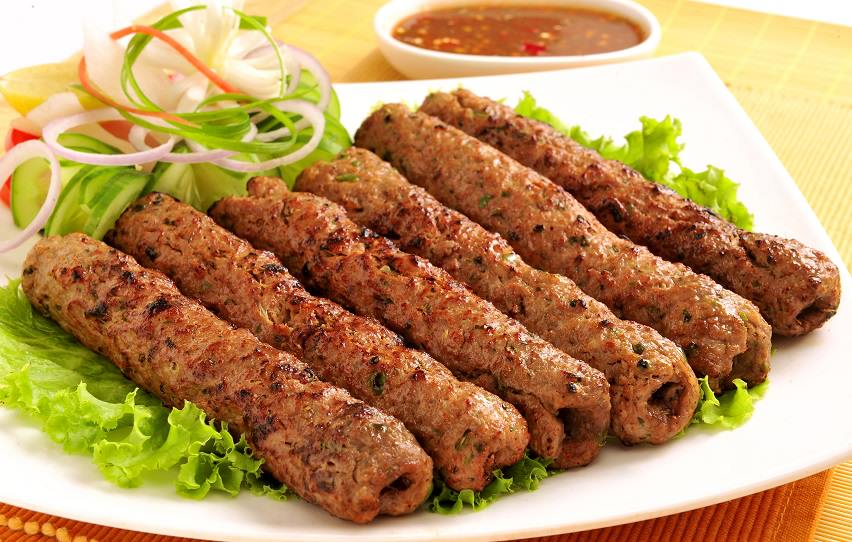 Sheekh Kabab Recipe
Ingredients
2 pounds lean ground lamb
2 onions, finely chopped
1/2 cup fresh mint leaves, finely chopped
1/2 cup cilantro, finely chopped
1 tablespoon ginger paste
1 tablespoon green chili paste
2 teaspoons ground cumin
2 teaspoons ground coriander
2 teaspoons paprika
1 teaspoon cayenne pepper
2 teaspoons salt
1/4 cup vegetable oil
skewers
Directions
In a large bowl, mix ground lamb, onions, mint, cilantro, ginger paste, and chili paste. Season with cumin, coriander, paprika, cayenne, and salt. Cover, and refrigerate for 2 hours.
Mold handfuls of the lamb mixture, about 1 cup, to form sausages around skewers. Make sure the meat is spread to an even thickness. Refrigerate until you are ready to grill.
Preheat grill for high heat.
Brush grate liberally with oil, and arrange kabobs on grill. Cook for 10 minutes, or until well done, turning as needed to brown evenly.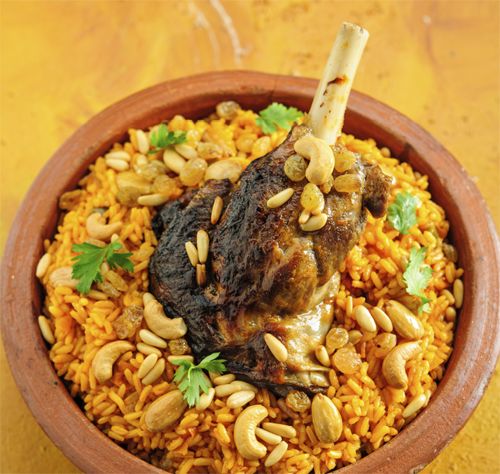 Arabic Style Rice with Lamb

Meat
Ingredients
1 1/2 lbs finely chopped lean lamb or 1 1/2 lbs ground lamb
2 cups long grain rice (Basmati is excellent)
3 tablespoons butter
3 1/2 cups boiling chicken broth or 3 1/2 cups boiling water
2 teaspoons salt
1/2 teaspoon black pepper
1/2 allspice
1/2 teaspoon nutmeg
1/4 teaspoon cinnamon
1/4 teaspoon saffron (for color with chicken broth) (optional)
1/2 cup pine nuts (optional)
Directions
Brown lightly lamb meat in butter.
Add salt and spices and stir for 2 minutes.
Add two cups rice, stir and add the 3½ boiling Chicken Broth and mix well.
Bring to Boil.
Cover and simmer for 20-25 minutes or until rice is tender and water is absorbed.
Let cool for ½ hour and put in large serving dish and ready to serve.
you can serve with natural plain yogurt if desired.
in the meantime rice is cooling , sauté ½ cup pine nuts in 3-4 tbs. olive oil or vegetable oil until light brown.
Decorate rice and meat dish with the sauté pine nuts and serve.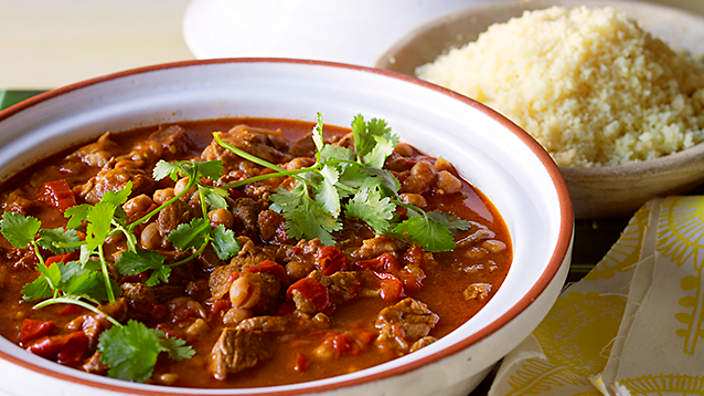 Moroccan Lamb Tagine Recipe
Ingredients
1.5kg boneless shoulder of lamb, cut into chunks
1 tablespoon vegetable oil
1 large onion, finely chopped
4 garlic cloves, peeled
A 5cm piece of cinnamon stick
2 teaspoons Ras el Hanout
2 teaspoons ground ginger
1/2 teaspoon ground turmeric
A pinch of saffron threads
1 teaspoon freshly ground black pepper
50g unsalted butter, melted
1 litre lamb or vegetable stock
500g whole dried apricots, soaked in water to soften, then pitted
100g blanched almonds
50g salted butter
50ml honey
1 teaspoon ground cinnamon
Salt
Method
To make this lamb tagine recipe, toss the pieces of meat with the oil, then sear in a hot frying pan over a high heat until browned on all sides. Remove from the heat.
In a flameproof tagine or casserole mix together the lamb, onion, garlic, cinnamon stick, ras el hanout, ginger, turmeric, saffron, pepper and melted unsalted butter. Add salt to taste. Cover andcook over a medium heat for 12–15 minutes.
Pour in 750ml of the stock and continue cooking, covered, for 2 hours or until the meat is very tender.
Meanwhile, drain the apricots and cook in enough fresh water to cover for 30–40 minutes or until reduced to a nice pulp. Fry the almonds in the salted butter until lightly browned.
Add the apricots, nuts, honey, ground cinnamon and remaining stock to the lamb. Simmer for a further 10 minutes.
Serve this lamb tagine recipe hot with couscous