Why should food be an issue for Muslim passengers all the time? Is it really that hard for people to know what can a Muslim eat?
Read this hilarious story shared by American Muslim comedian, Aman Ali and have fun 🙂
I caused a scene being Muslim on a plane the other day. I was in Malaysia for some shows last week and I get on a flight back to New York and the flight attendant asks me if I'm Muslim.
WHY IS THAT RELEVANT? I'm like THIS CLOSE to throwing my CAIR "Know Your Rights" pocket pamphlet buried in my wallet from 9 years ago at her when she says "It says on your ticket that you requested a Muslim meal."
I was like "Oh, ok. Uhh yes, I am Muslim." The CAIR pamphlet remained buried in my wallet. The organizers that put my Malaysian tour together booked my flight so they must have requested a Muslim meal on my behalf. Sure, cool.
About an hour later, they start serving food on the flight. I don't know why I get so excited whenever the food cart comes down the aisle on flights but I do. Like I have to refrain from bouncing up and down in my chair with joy and always pull my headphones out and sit fully focused in the ready position as if they'll go past me if I'm not making direct contact at them at all times.
Flight attendant brings me the "Muslim Meal." It was plain rice, cauliflower, water and a piece of grapefruit. THAT'S IT. IS THIS WHAT THEY THINK MY PEOPLE'S EAT? DO I NEED TO PULL MY CAIR PAMPHLET OUT AFTER ALL???
Meanwhile, the non-Muslim dude next to me is feasting on pasta, mashed potatoes, some kind of salad and this delightful looking white chocolate raspberry cheesecake.
So I'm mean-mugging this dude that's munching away in joy of delight and I'm thinking to myself "Wow, am I really giving this guy the Evil Eye over a microwaved airline meal?" Lol, I have problems.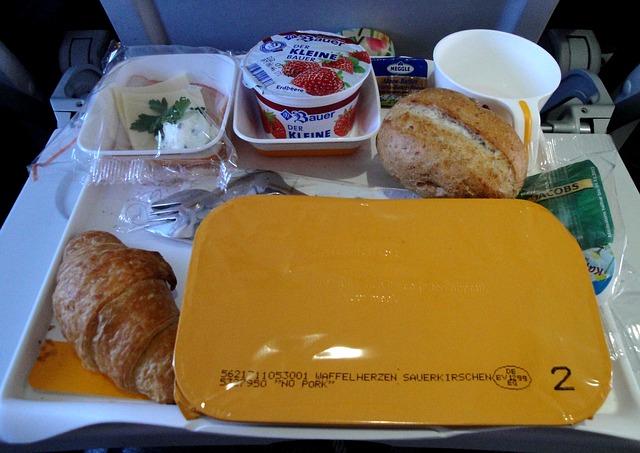 But I'm really hungry and have to head to another event as soon as I land so eating something is critical. So I ask the flight attendant if I can swap the bland desert wasteland known as the "Muslim Meal" for the pasta the guy next to me was having.
"But aren't you Muslim?" the flight attendant asked.
Damn, now she's got me feeling hella bad and trying to hide my identity.
"I a-a-am but there's no meat in the pasta," I started stuttering all defensively.
"But you said you were Muslim. You requested the Muslim meal. We prepare meals based on the number of seats on our flight so we have no extra to give you."
Now I start feeling awful. Now she's going to think Muslims are hella difficult and divas. I should take that CAIR pamphlet and slap myself with it.
But then I look at the lady on the other side of me, and she's eating beef and noodles, steamed veggies, salad and some kind of yummy looking choclolate pudding. AND GET THIS! We're on an Asian based airline and the tray cover of her beef dish says "Certified Halal" on it.
WHAT. So now I ask the flight attendant "Ok look, can I have that one then? It even says HALAL on it."
She goes "Sir, you asked for the Muslim meal."
And I go "I did. But I'm Muslim and we eat food that is halal. That beef and noodles dish has halal meat in it, so I can eat that. Can I have one if there are any extra trays?"
"But sir, that's not the Muslim meal. Your meal is the Muslim meal."
"Ok, but this beef and rice dish is halal and is technically a Muslim meal too. Because in the Quran…" and then I catch myself and I'm like wow am I really about to get into a scholarly argument with a random lady on a flight?
We should be having those discussions for more important places… like on Facebook with strangers that type in all caps.
So now this lady gets another flight attendant who comes up to me and goes "Is something wrong?"
And now I'm freaking out because I'm starting to make a scene. Omg I hope nobody is recording this, the last thing I need is to end up on some right wing blog with the headline "Passenger Wages Jihad over Airline Food."
Am I about to be the first Muslim booted off a flight that actually deserves it lol.
I profusely apologize and go "No no, it's fine, I'll eat my rice. It's ok."
The flight attendants go away. I feel so awful and embarrassed over how unnecessary I was being. Food is food man.
The guy sitting next to me with the pasta cuts his cheesecake in half and was so kind in offering me a piece.
"That's why I never ask for the kosher meal," he said with a chuckle. "I've eaten too many rice and cauliflower meals to not repeat that mistake ever again."
Republished with a kind permission from brother Aman Ali.