As hijab fashion gets more widespread, the hijabi blogosphere has exploded!
Modesty as a movement is making huge strides in helping women of all style aesthetics find innovative ways to express themselves within the guidelines of hijab.
To help you find hijabi bloggers who best inspire your own style, we've compiled 28 of today's most influential bloggers below!
1. Leena Asad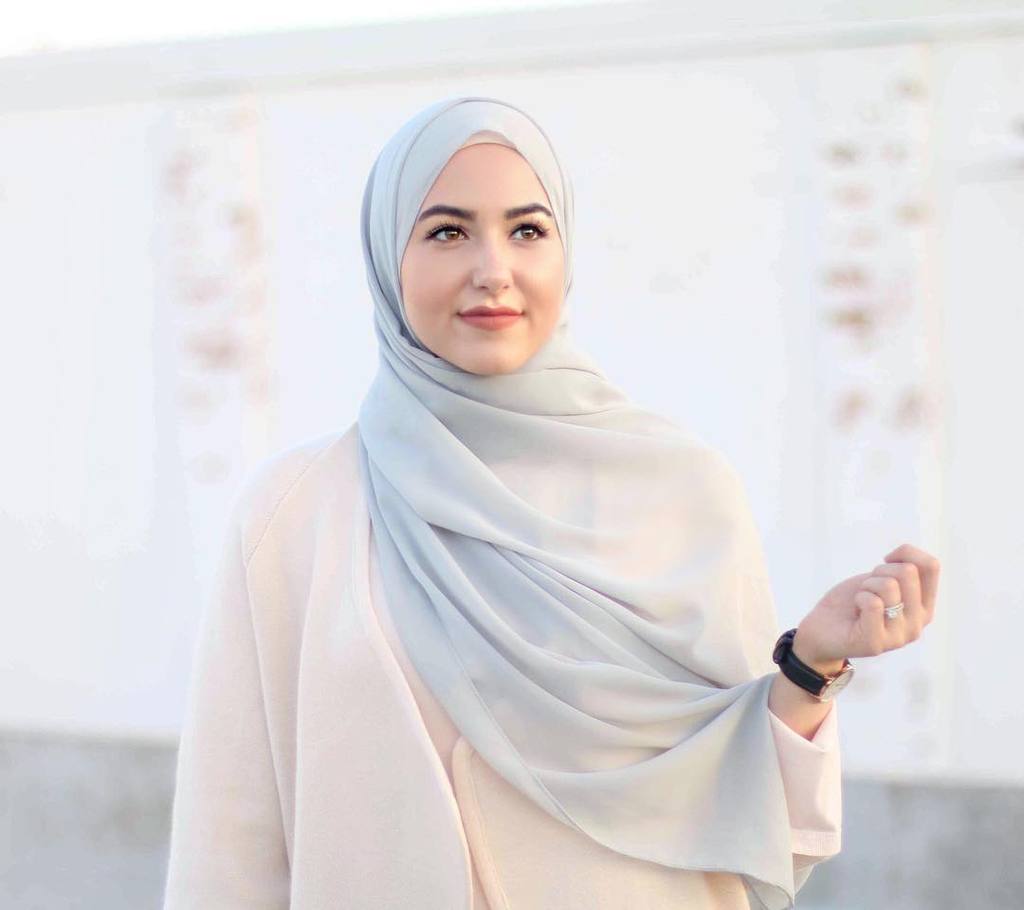 Leena Asad (@withloveleena) is a Texas-based lifestyle and fashion blogger. We love how she pairs ladylike touches like fur shrugs, lace and ruffles, with edgy details like ripped jeans and a statement Chelsea boot to create a striking eclectic vibe that is as cool as it is classic.
2. Saufeeya Goodson
Saufeeya Goodson (@feeeeya) is a Dubai and US-based fashion blogger who is also the mastermind behind the @hijabfashion Instagram. Her eclectic looks infuse bold details (think voluminous ruffled sleeves or tough all-black looks) with urban staples like long coats and chic trousers for a vibe that feels upscale and polished, yet unabashedly creative.
3. Habiba da Silva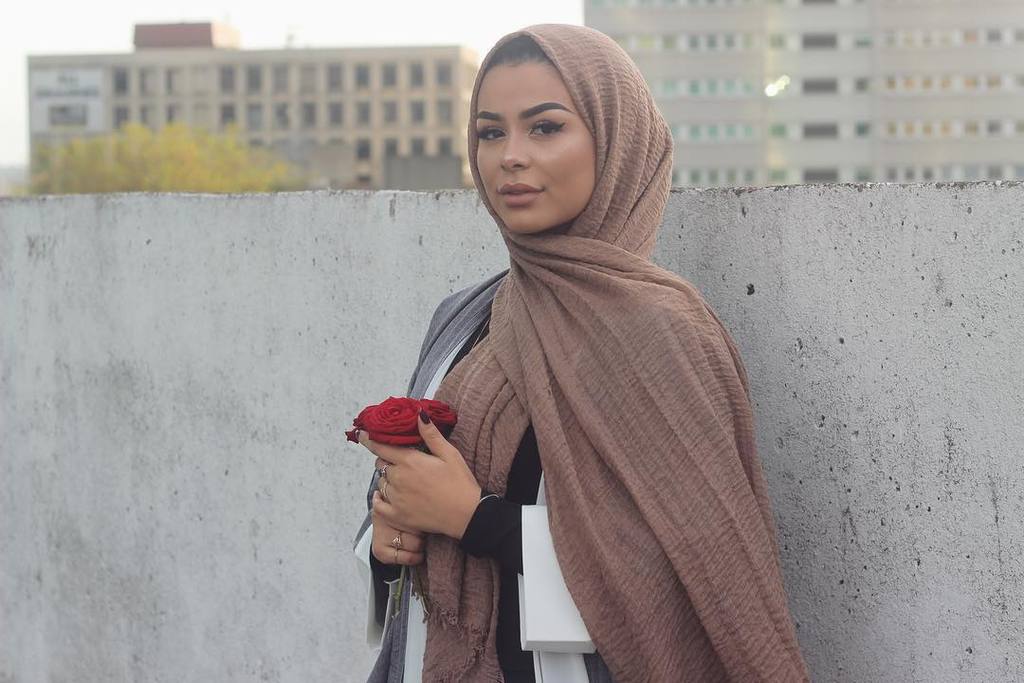 Habiba da Silva (@lifelongpercussion) is described in her bio as an "international influencer" – and we couldn't have said it better ourselves! Her style emphasizes flowy silhouettes in muted colors, paired with thoughtful details like the mix-and-match gold rings shown above.
4. Hanan Tehaili
Ottowa-based Hanan Tehaili (@hijabsbyhanan) is well-known for her YouTube hijab tutorials and uber-creative hijab styling. She combines soft colors with timeless staples for a look that feels modern and fresh while staying modest.
5. Heba Jalloul

Heba Jalloul (@heba_jay) is a blogger based in New York who knows that details make an outfit. Her affinity for intricate embroidery, statement touches and classic floral prints give her looks a distinctly fresh, feminine vibe.
6. Dina Torkia
Dina Torkia (@dinatokio) doesn't shy away from statement pieces, embracing a wide array of rich color, intricate texture and unique silhouettes. Look to her for style inspiration that is big, bold and unapologetically fun.
7. Ascia al Faraj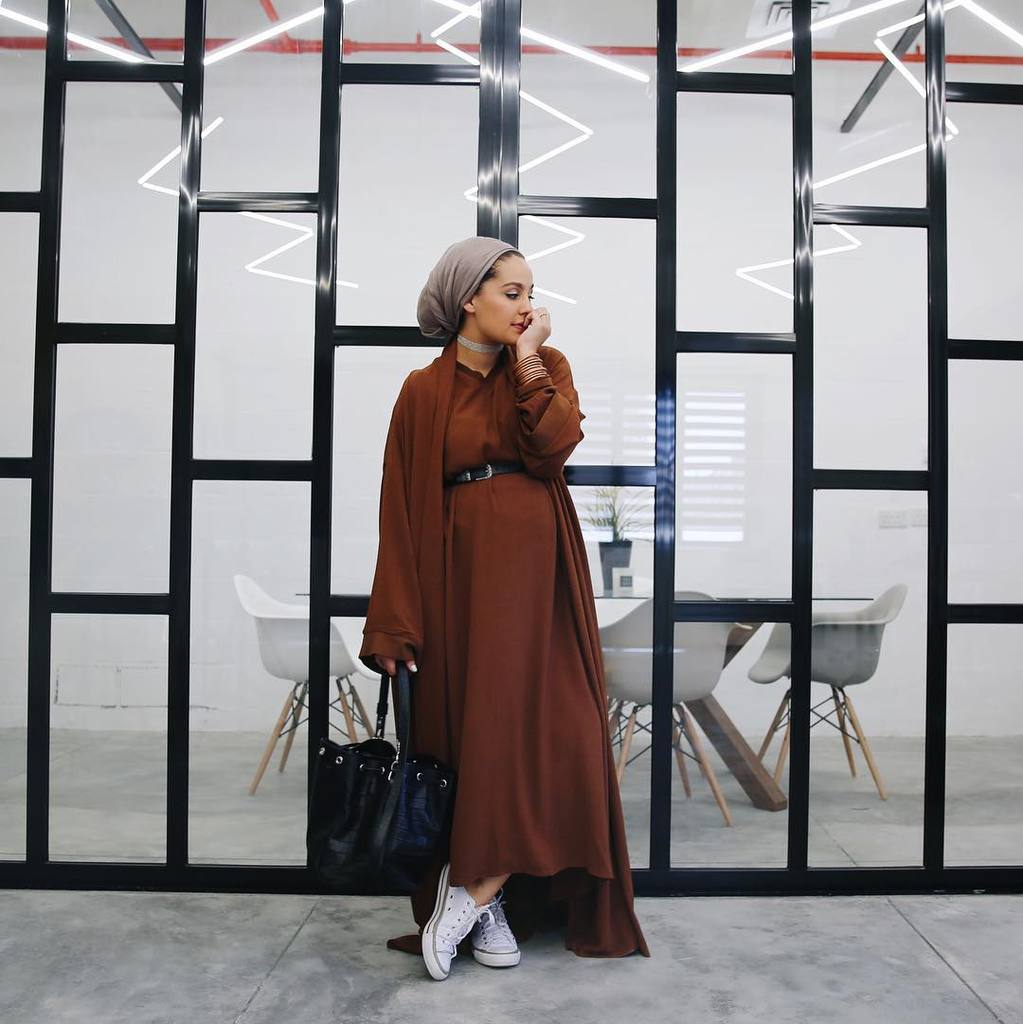 Ascia al Faraj (@ascia_AKF) is a Kuwait-based blogger who pairs maxi silhouettes in edgy fabrics like leather and lame to create a unique spin on simple silhouettes. We love how she pairs ladylike dresses with sneakers for that perfect balance of casual-yet-polished.
8. Mariah Idrissi
Mariah Idrissi (@mariahidrissi) is a British model and blogger who initially stepped into the spotlight as H&M's first hijabi model. Between menswear-inspired pieces (like this incredible houndstooth coat), turban-style hijabs, global influences and statement boots, her looks are cool incarnate.
9. Melanie Elturk
Melanie Elturk (@hautehijab) is the founder and CEO of Haute Hijab (but you probably already knew that!). She started her business in 2010 out of a passion for vintage scarves and this affinity for all things classic and timeless infuses all her looks, paired with modern staples like tailored blazers, a great slouchy jean, and innovative hijab prints.
10. Manal Jalil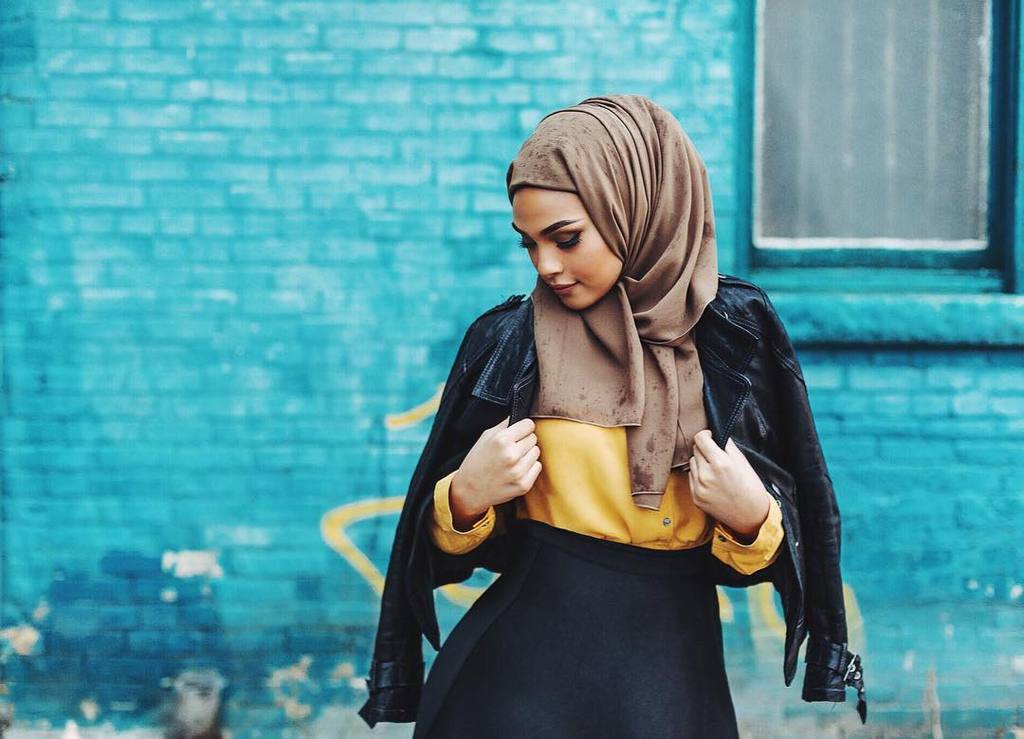 Manal (@chinutay) is a beauty and fashion blogger based in Canada. She uses timeless pieces in fresh colors and textures (like this scuba a-line skirt/classic leather jacket combo) to create chic canvases for her incredible makeup looks.
11. Omaya Zein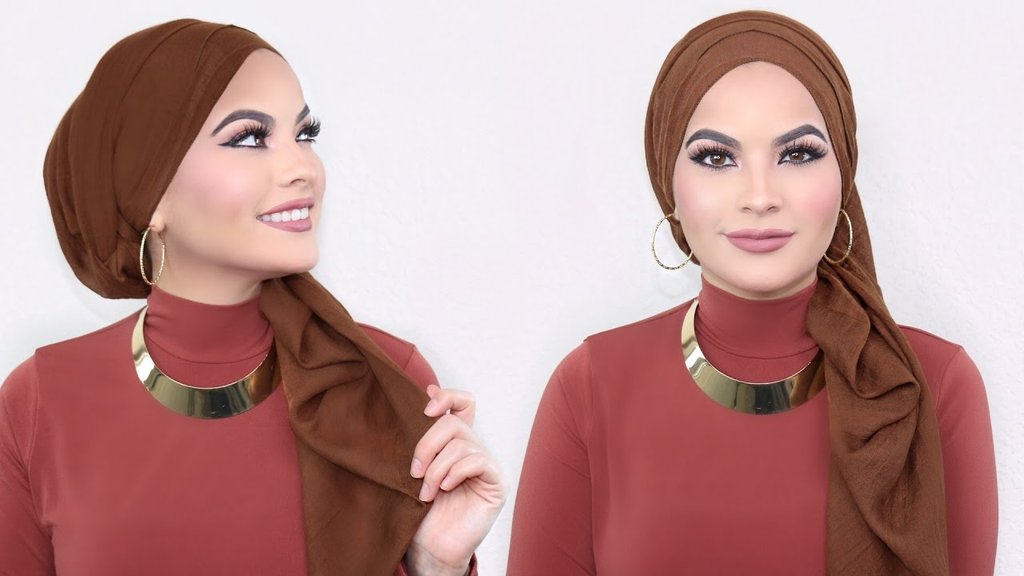 Omaya Zein (@omayazein) is a fashion and beauty blogger with an eclectic style. She excels in monochromatic looks topped with gorgeous florals for a chic, feminine look – but is never afraid to mix it up in funky prints or cool accessories (like this fierce metallic collar necklace)!
12. Marwa Atik
Marwa Atik (@marwaatik) is the brains behind Vela Scarves and a style blogger with a distinctively modern edge, thanks to her eye for muted colors, slim silhouettes, statement footwear and innovative details – think unique boots and her signature zipper-edged hijab!
13. Dian Pelangi
Dian Pelangi (@dianpelangi) is an Indonesian fashion designer, entrepreneur and hijab fashion pioneer with an incredible eye for style. She combines stunning Indonesian embroidery and other traditional techniques with luxe accessories and long lines for a look that feels fresh, fun and just the right amount of fancy.
14. Basma Kahie
Basma Kahie (@basma_k) is a beauty guru and fashion designer based in London. We love how she infuses chic monochromatic ensembles with retro glam flair and adds playful details like floral prints and lace for an eye-catchy eclectic style.
15. Imane Alasry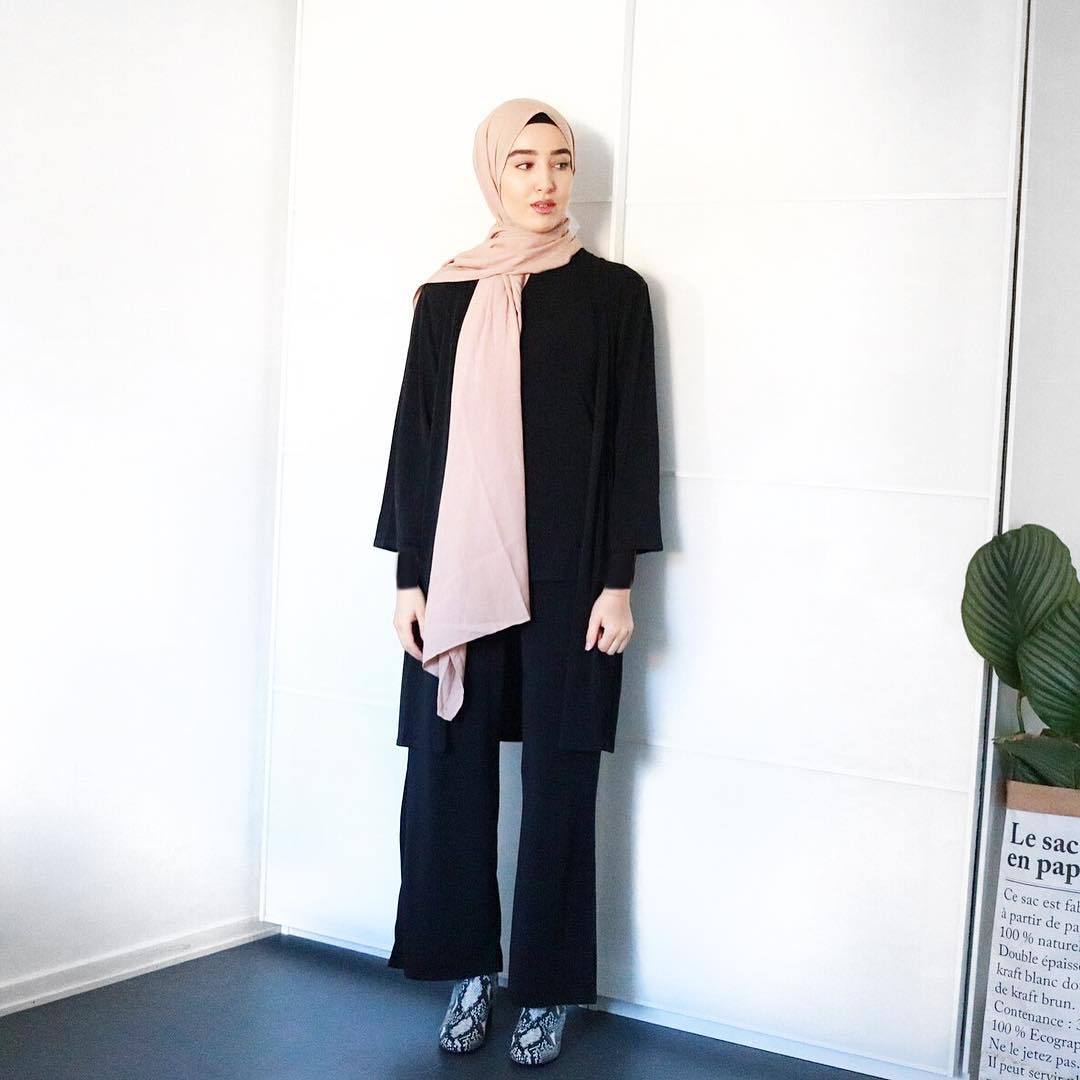 Imane Alasry (@fashionwithfaith), based in Stockholm, Sweden, is nicknamed the "Modest Minimalist" – and for good reason! Her minimal take on hijab features cool neutrals in flowing, sporty silhouettes for a distinctively refreshing, Scandinavian-infused twist. (We are personally also in love with these fierce snakeskin boots!)
16. Ruba Zai
Ruba Zai (@hijabhills) is a hijabi blogger based in the Netherlands. She gives her looks a retro-cool vibe with her use of vintage-inspired details like pearl embroidery or 70s-chic suede vests, while her neutral palettes with pops of burgundy or lipstick red keep things modern.
17. Nura Afia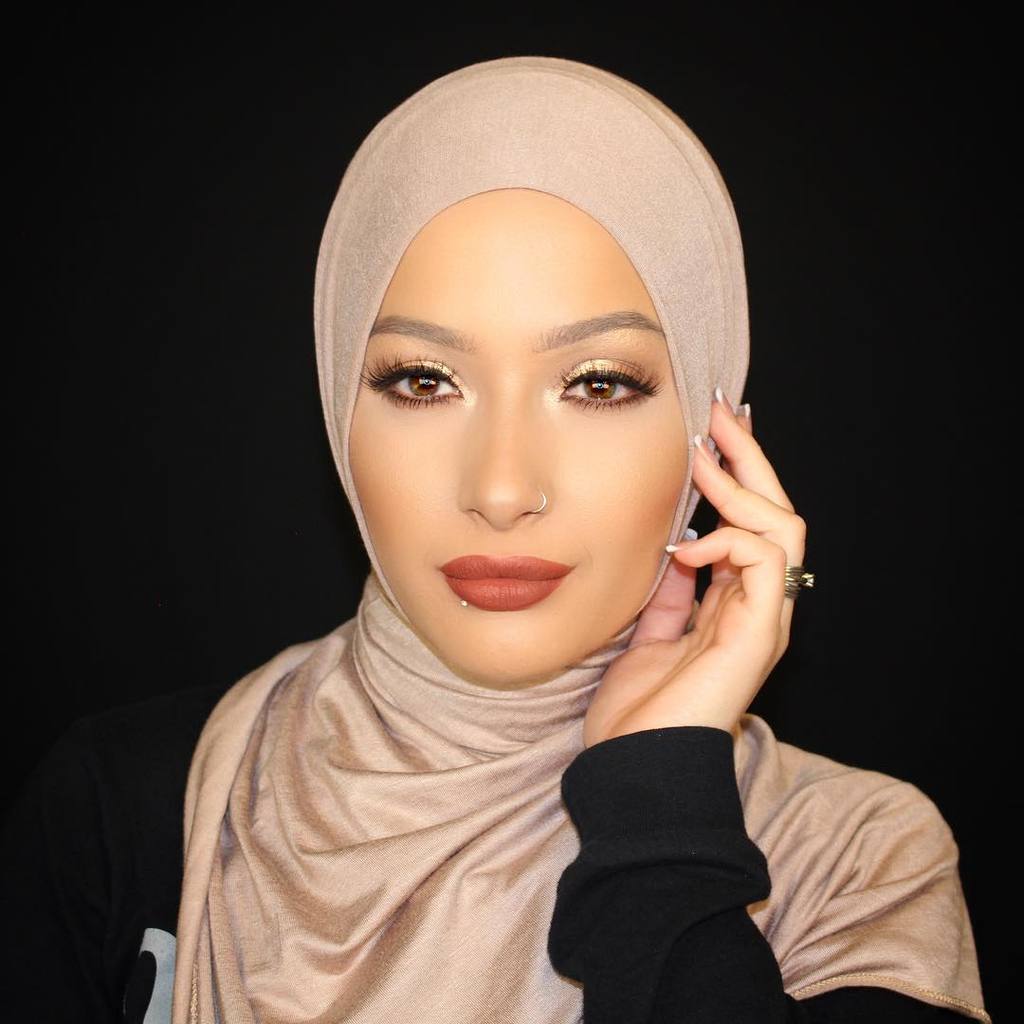 Nura Afia (@nuralailalov) is a Denver-based beauty and fashion blogger who made history last year as the first hijabi Covergirl. Her emphasis on minimal silhouettes in classic colors let her beauty expertise take center stage – oh, and she's also a frequent member of the #HHSpotted Club (including this photo of her in our Premium Jersey Hijab in Buttercream)!
18. Yasemin Kanar
Yasemin Kanar (@yazthespaz89), based in Florida, is a hijabi fashion/beauty blogging pioneer and model. Her laidback style features flowing silhouettes with color blocked details, infused with bright colors and a special knack for creative hijab styling.
19. Nour Kaiss
Nour Kaiss (@nourka92) is a Canadian blogger and entrepreneur behind the Souqina App.Her looks get their easygoing, chic vibe from minimal lines with plenty of drape in classic, muted hues. Look to her for inspiration on how to use detailing (statement necklaces, lace collars, or these striking pleated sleeves) to make classic silhouettes feel distinctively "now."
20. Summer Albarcha
Summer Albarcha (@summeralbarcha) is known for her chic downtown style. Look to her for how to style classic neutrals in timeless fabrics and add pops of fun texture and color for a look that feels edgy and urban, yet pristinely polished.
21. Amena Khan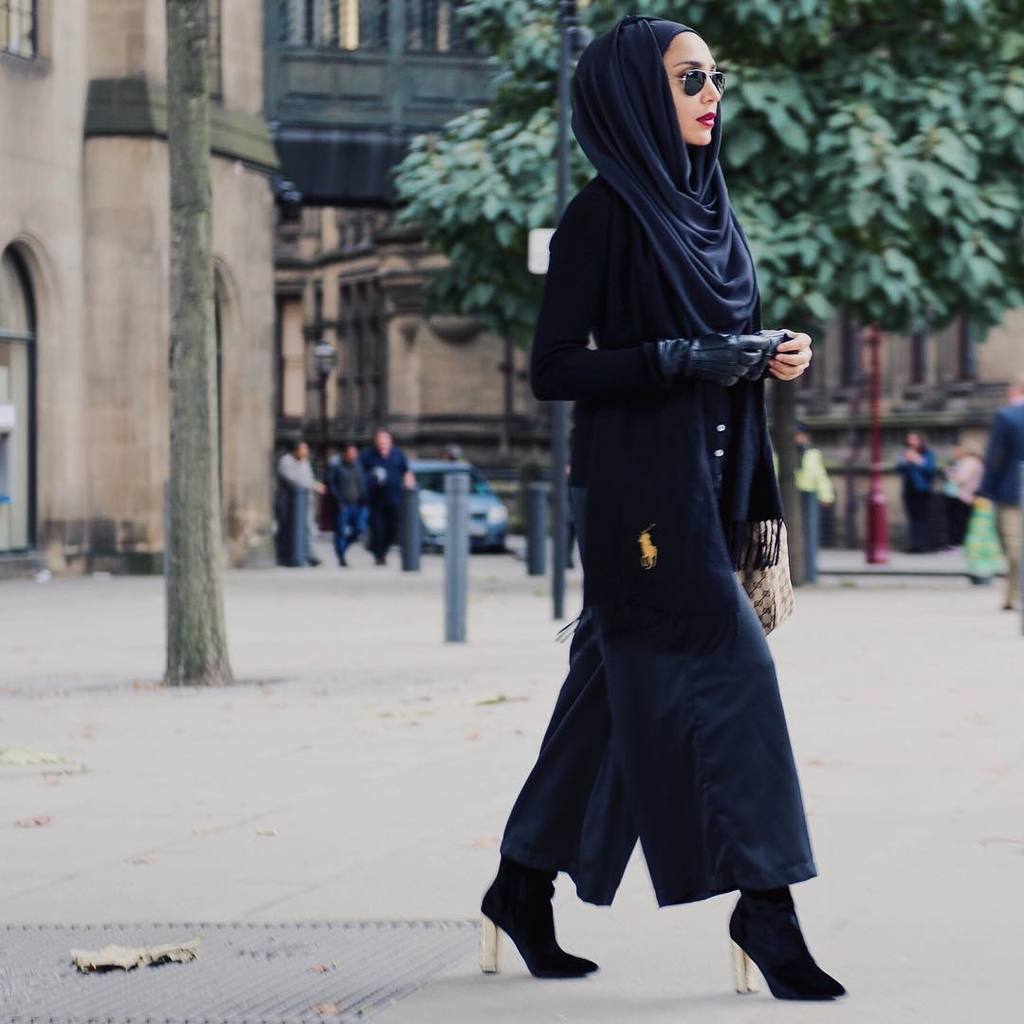 Amena (@amenaofficial) is a UK-based blogger known for her extensive YouTube hijab tutorials. Her style is edgy and modern to the hilt, with fierce all-black looks, athleisure influences, and unique textures, from leather to quilting to fur. Follow her for inspiration on how to elevate your looks using exciting statement pieces!
22. Sebina Hussain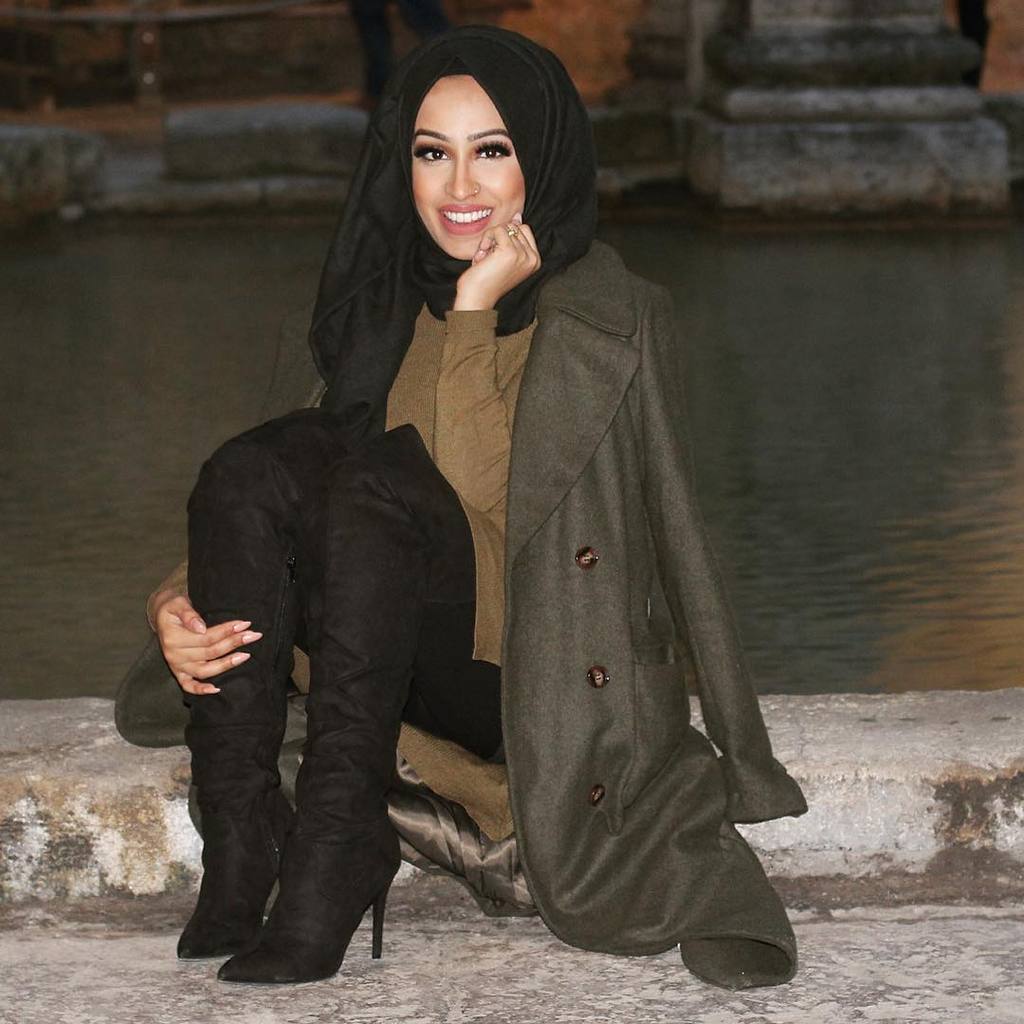 Sebina (@sebinaah) is a UK-based blogger who gets her feminine-yet-fierce style by juxtaposing luxe textures like fur, velvet and suede with classic pieces in muted colors. Top it off with a killer heel and you're good to go!
23. Eileen Lahi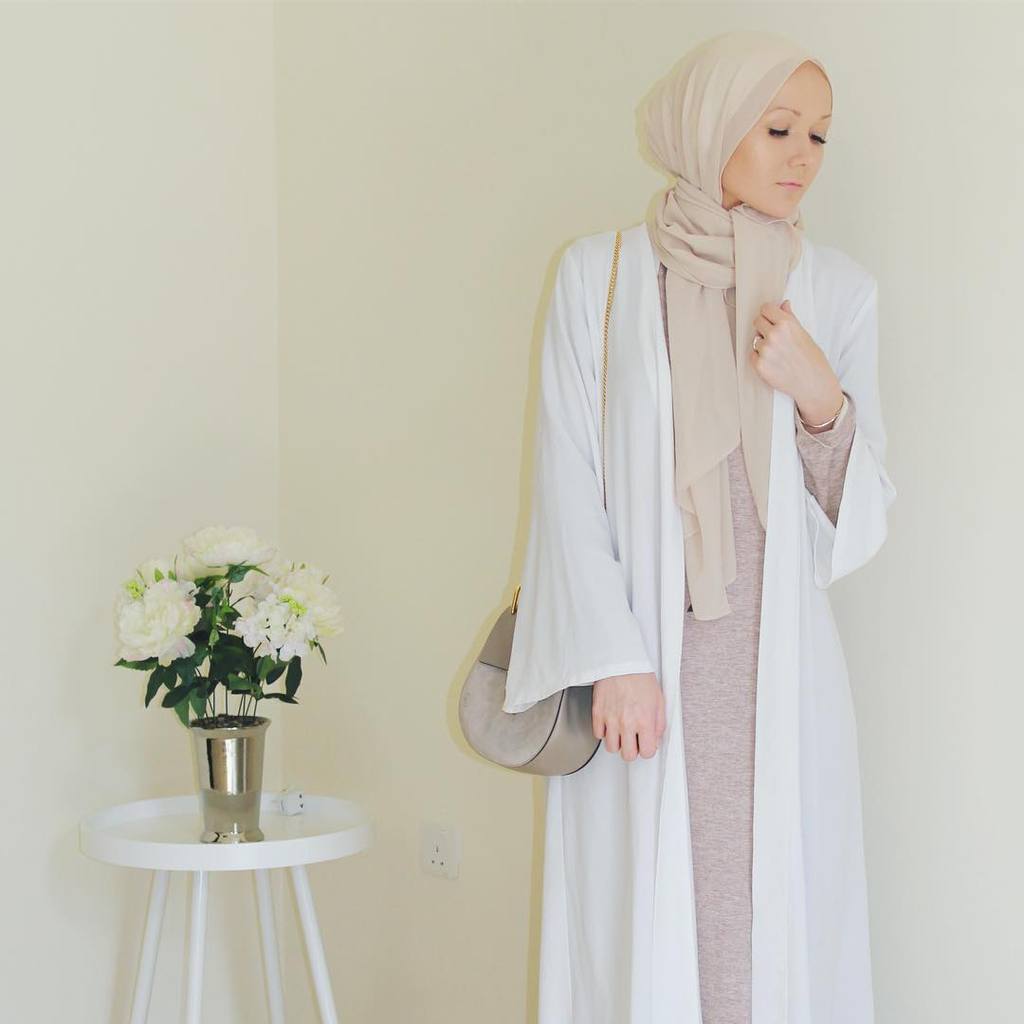 Eileen Lahi @eslimah) is an Estonian revert living in Qatar. Her looks exude serenity and simpicity, thanks to their relaxed silhouettes and soft color palettes, tied together with a few thoughtfully chosen accessories.
24. Sobi Masood
Sobi Masood (@sobi1canobi) has an eclectic style, unconfined to any particular style "box." Look to her for inspiration on anything from folksy bellbottoms to perfectly layered casual outfits to luxuriously embroidered formal looks. We love how she paired this classic tunic with 90s grunge-esque denim, statement boots and a sleek black hijab for an updated vibe!
25. Hanyeh Khoshnevisan
Hanyeh Khoshnevisan (@hanihulu) is a Philadelphia-based blogger and accountant. She has an eye for texture and print that gives her looks a distinctly modern vibe, from striped statement suits, bold florals and cozy plaids, to just the right amount of fur – and of course, a great statement heel!
26. Dalal AlDoud
Dalal AlDoud (@dalalid) is a fashion and beauty blogger based in Kuwait. Her looks have no shortage of luxe detailing (think pearl-embroidered jeans, fur collars and statement sunnies), tied together with classic pieces and topped off with an office-ready coat for a look that exudes elegance.
27. Soha Mohamed Taha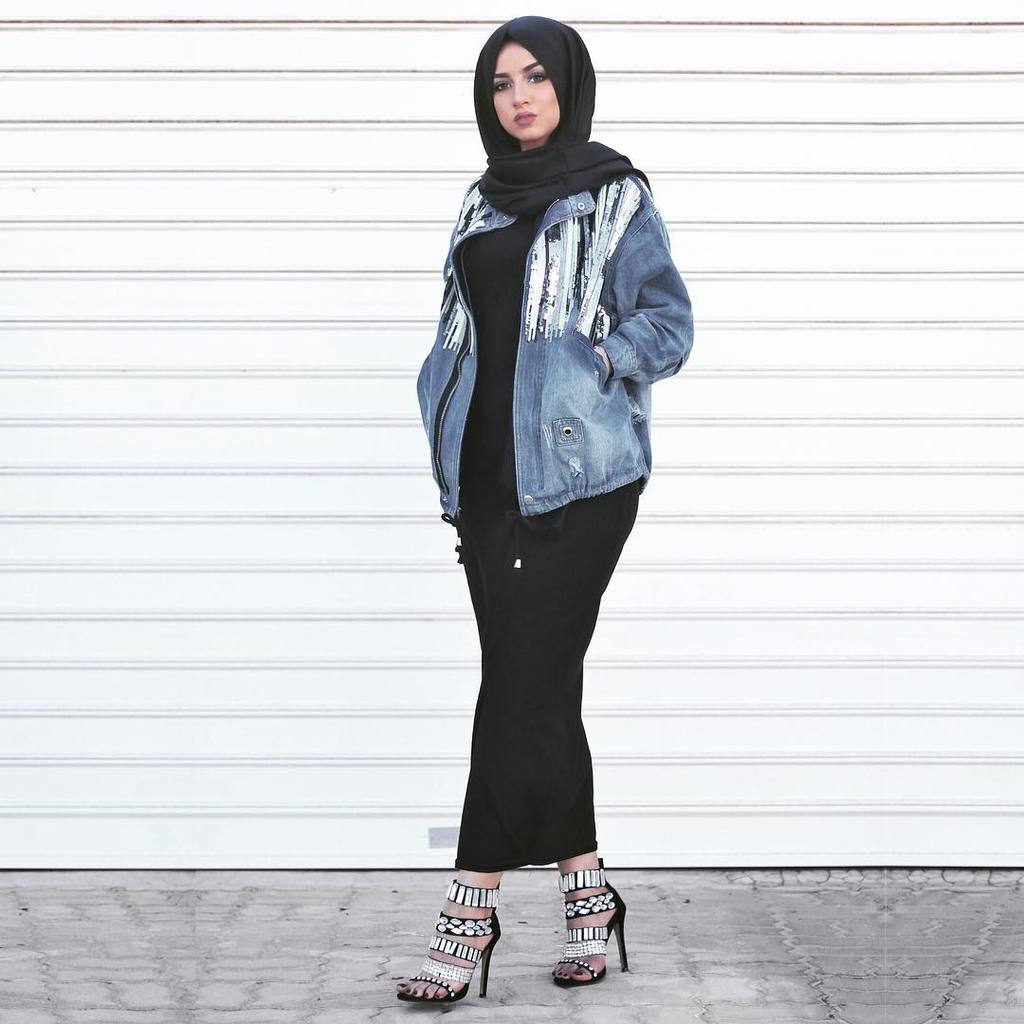 Soha Mohamed Taha (@sohamt) is a designer and stylist with a flair for all things glam. We love how she mixes cool-kid pieces (like this statement jean jacket) with sleek basics and ties it all together with a stunning shoe for a vibe that's luxurious but never takes itself too seriously!
28. Maria Alia
Maria Alia (@mariaalia) is based in New York City, so it should come as no surprise that her looks have plenty of that quintessentially NYC cool factor. Look to her for chic velvet and metallic textures, dressed up with killer boots and a turban hijab, or styled casually with athleisure pieces and (of course) a great pair of white tennies.
This article was first published at hautehijab.com