Bagpipes, historic castles and dare I say, the Lochness monster! These are a few things that define the country of Scotland, and with a growing Muslim population it now has the added attractions of domes, minarets and Islamic tartan. Yes! Islamic tartan!
In a country with a population of 5.4 million, there are about seventy to eighty thousand Muslims, many of whom have either been born there or lived there for more than half of their life. Islam is thus the second largest religion in this country.
Scottish Muslims mostly live in the areas of Glasgow, Edinburgh, Aberdeen and Dundee where most originate from Pakistan and India. The first purpose-built mosque was built in 1984 with architectual details to reflect not only a Middle Eastern style, but also Scotland.
Inside the mosque, Muslim weddings take place with some grooms attired in tartan kilts as opposed to traditional Muslim garb walking to the sound of bagpipes! Even, the signature dish of Scotland's Haggis is now available as a halal option.
So, it's no wonder that the Muslim Scots feel a sense of Scottish pride. One such person is Glasgow-born, Dr. Azeem Ibrahim, a Scottish academic and forward-thinking individual. His parents are originally from Lahore, Pakistan and he has five siblings.
As a boy, he worked behind the counter of his dad's corner grocery shop which sparked his interest in business. When his father died at an early age the family had to leave their home and live on a council estate. This spurred him to become someone who would travel, network, experience what life had to offer and then head back to Scotland to study.
So, when it came to his university graduation, his fellow students intended on wearing their own family tartan kilts for their graduation, but of course, there was none to represent a Scottish Muslim, so he set about creating one.
Scotland's Islamic Tartan
Tartan refers to the pattern on the cloth used to make kilts. It is defined as a woolen, woven piece of cloth that consists of a criss-cross of horizontal and vertical lines to form a pattern resembling plaid. The lines are made of different colors and widths to gives it that signature look.
Surprisingly, creating a custom tartan is an option open to anyone and there are no requirements. You can design it yourself or you can use an expert tartan design company as Dr. Azeem Ibrahim did.
When it came to his design, he didn't just think of having a tartan made for himself or to represent his family, but he thought about it on a broader scale to include many of his fellow Scottish Muslims by incorporating the shared heritage of being Scottish and being Muslim.
In order to ensure the design fully represented the two said criteria, he enlisted the help of an expert tartan design company and a number of Islamic scholars.
Consultations were set up between DC Dagleish who are a Scottish tartan design company and mill, and three respected and influential Islamic scholars in the West namely, Dr. Umar Faruq Abd-Allah, Imam Zaid Shakir and Shaykh Humza Yusaf, together with Shaykh Amer Jamil an Islamic scholar from Glasgow, Scotland.
There were a number of things to think about to make the tartan a custom design – most importantly, it had to represent the Scottish and Muslim cultural heritage.
They had to closely look at who the tartan is for? What the official colors would be? What would be the arrangement of the colors? What size would the lines and bands be? In fact, It can get very finicky the more you think about it.
Together, the tartan design company and the Islamic scholars came up with a unique style depicting, 'a timely and powerful symbol of the recognition by Scotland's Islamic communities of their national identity.' ~ Dr. Azeem Ibrahim, Islamictartan.com.
Representing Scottish and Islamic Heritage
The end result used five colors with various line and band widths. The following shows what colors were used and what it represents:
Blue to represent the Scottish Flag.
Green to represent the color of Islam.
Five white lines represent the five pillars of Islam.
Six gold lines represent the six articles of faith.
Black square pattern represents the Holy Ka'aba.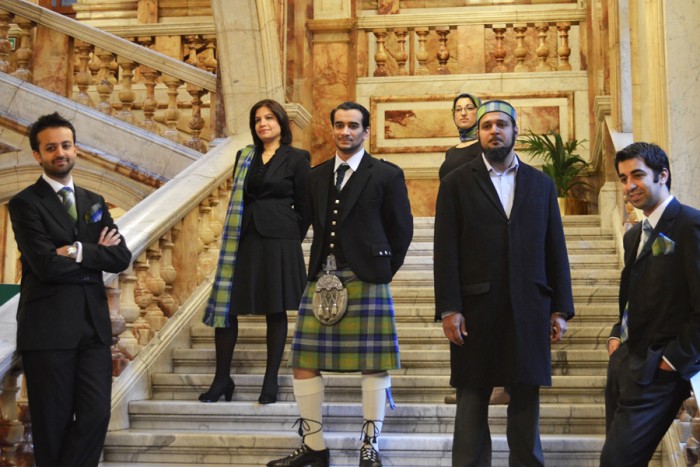 The tartan cloth was produced using a hand-crafted tartan mill. And the finished product was launched and registered in 2012 as the official Scottish Islamic Tartan at the Scottish Register of Tartan. It was further endorsed by the Muslim Council of Scotland.
For many Scottish Muslims, particularly those in education, having a custom Islamic tartan means they now have another option for graduation attire as many grandaunts choose to wear a traditional kilt. Even the Scottish member of parliament of Glasgow, Humza Yousaf took his oath of allegiance wearing a kilt!
There are other events where Kilts are much in evidence such weddings, rugby matches and the Scottish holidays of St Andrew's Day, Robert Burns' Night (celebration of a Scottish poet) and Hogmanay (New Year's Eve).
So, for Muslims attending a celebration, event or occasion you too can wear Islamic tartan, be it in the form of classic or contemporary fashion or even stylish Islamic clothing in the form of a jacket, a dress, an abaya and of course, a kilt.
First published: December 2018