The first ever Modest Fashion Festival took place at the Grosvenor House Hotel in London this past weekend.
The event is founded by doctor Fahreen Mir and human rights barrister Sultana Tafadar. It was a celebration of luxury and modern brands as models dressed in Islamic robes and headscarves showcased the best from the 'modest fashion' industry
Following the inaugural event in London, similar ones will now take place in Dubai and Doha, Qatar.
In an interview with Mvslim, Sultana said:
'I believe that Muslims, especially in the West, can now afford more, in terms of luxury and fashion, than before; many Muslims are educated and participate in high professions,' .So we often go shopping but as a modest fashionista, it's hard to find the right and appropriate clothes. We get really excited when we think we find something beautiful until we discover the deep split in the skirt for example.
Stars like Halima Aden and Mariah Idrissi (the UK's first hijab-wearing model) took to the catwalk, made up by Charlotte Tilbury.
https://www.instagram.com/p/BajCrbfAIGI/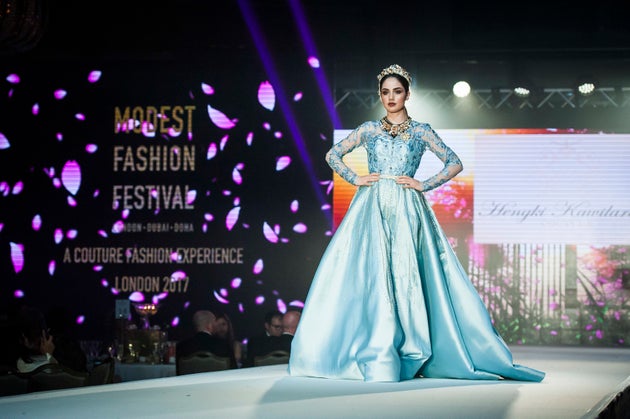 According to their site, the festival aims to do five key things:
Firstly, to champion the permanent presence of Modest Fashion in the mainstream fashion industry so as to bring recognition to a rapidly growing global demographic of consumers not previously adequately catered for.
Secondly, to present a diverse array of aspirational Modest Fashion options to Modest dressers from diverse backgrounds, cultures and lifestyles, and allow them to connect with established and emerging contemporary luxury Modest Fashion brands.
Thirdly, to expand the Modest Fashion consumer base by illustrating that it is not exclusive to those of particular religious and cultural identities, but can be enjoyed by all.
Fourthly, to support, celebrate and empower the inherent rights of all women to make their own choices, sartorial or otherwise, free from external interference and without the need to justify; Fifthly, to break archetypes and pre-conceived notions of the Modest dresser and instead to recognize and celebrate their achievements, and to empower and inspire others to combine Substance with Style.