It is a small country on the map of Eastern Europe, which is usually unknown to most people outside Europe (and sometimes even among Europeans themselves). If you mention the name of a famous footballer like Puskás, some of them start to enlighten a bit, but still many have no idea about Hungary. Islam in Hungary has a long history; the 150 years Ottoman occupation is one of the main reasons behind this history.
Unfortunately, today Islam has become a stranger in the country. There are approximately 26,000 Muslim residents; most of them have Arab or Turkish background. However, the number of revert Hungarians is increasing as well. Budapest, the capital city of Hungary, has more than one Muslim community among which the interaction can be sometimes difficult.
Aboutislam.net had an interview with Szultan Sulok, head of 'The Organization of Muslims in Hungary' (MME) to know more about the situation of Muslims in Budapest, challenges, the opportunities and what kind of activities the organization offers for Muslims as well as non-Muslims, who are interested to know about Islam.
Editor: Would you tell us about the Organization of Muslims in Hungary and since when does Budapest Masjid exist?
Mr Sulok: The Organization of Muslims in Hungary was established on September 22 in 2000 under the law on religious freedom. But this organization was not a new one; it has integrated all the experiences of Islamic activities in Hungary since 1987 when the very first Islamic organization, the Muslim Students' Association, was founded.
We started as a very poor organization sharing a place with another Islamic foundation called Dar As-Salam Mosque. It was not an easy task to be under the same roof with another group; we had continuous debates mostly on the theoretical and practical ways of working. After some time, an opportunity came to us to move into another building, which could provide place for approximately 100 individuals. But the community has started to expend and we needed a much bigger place.
Asking for support from different Muslim countries, al-hamduliAllah, we reached a donator in one of the golf countries who helped us in this project. So, we managed to buy a building and we transformed it into a masjid, naming it Budapest Masjid.
The Masjid's gates were first opened up in Ramadan, 2011. It is a huge building with 3 floors and a parking place. It can host the approximately 200 students of our Saturday school as well.
Since then, the people who usually pray in the masjid make some donations that cover the expenses of the masjid.
To be honest, it is very hard to maintain a whole masjid this way we are struggling a lot with the bills. It is much easier to find donators abroad if you want to publish Islamic books or organize a summer camp for Muslim children, but maintaining a masjid is considered to be the responsibility of the people who pray in it. Unfortunately, the majority of Muslims in Hungary are under the national average, therefore –despite their being in the European Union – most of them do not have enough money to donate for the masjid continuously.
Editor: Is there any restrictions that the government put on your organization?
Mr Sulok: Well, I would not call it a restriction, but we went through a hard time recently. The law of 1990 regarding religious freedom was a very liberal law. There were more than 300 registered religious organizations in Hungary, and many of them were actually nothing to do with religion. Actually, many of them business organizations but seized this opportunity to make bigger profits.
That is why a new law was adopted to sort out such institutions and that is where our struggle has started. It was more than a one-year struggle for being accepted as a religious organization by the Parliament. AlhamduliAllah, finally we managed to get the official permission as a religious organization.
Now we are among the 35 organizations, which are mentioned in the law as established "churches" representing established religions.
Editor: Didn't you wish to build a traditional mosque with a high minaret in Budapest?
Mr Sulok: Let alone that building a mosque is two or three times more expensive than buying a building which can function as a mosque, you need lots of permissions and you may find some regulations too strict to be able to build a real masjid. Our brothers in the Dar al-Salam Foundation have been trying this project for maybe almost 10 years by now – without any success so far. Therefore, we preferred to buy an institutional building for this purpose.
Editor: What kind of activities do you offer to Muslims?
Mr Sulok: Besides running the Budapest Masjid, we have summer camps in different places of Hungary and a Saturday school for children. We translate, or I would say we compile Islamic books from different sources, because we do not follow one specific school of Islamic jurisprudence (madhab). Every Saturday, we offer lectures on different aspects of Islam and from time to time, we organize courses in specific topics (this month's course is about educating our children according to the teachings of Islam) and we have charity activities as well.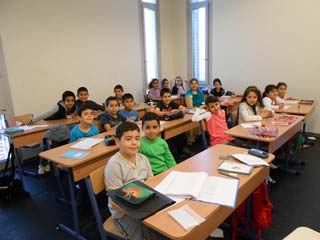 We try to represent Islam and Muslims in all possible forums; we participate in the interreligious dialogue to clarify the misunderstandings that others have about Islam.
Furthermore, we run another masjid in Budapest, in the city of Szeged and we have a good community in the city of Pécs and Salgótarján. We also maintain good relationship with the Hungarian speaking Muslims in Slovakia and Romania as well.
Editor: How is the community in Budapest? Do only Hungarians visit the masjid?
Mr Sulok: The majority of Muslims in Hungary live in the capital. 60 % of them have Arabic origins, 30% are from different backgrounds like Turkish, Persian or African Muslims and only around 10% are native Hungarian.
The Friday sermon and some lectures are in Arabic with Hungarian translation, but we usually teach in Hungarian language at the school and the Saturday weekly lectures.
To tell the truth, the biggest problem among the Muslim communities in Hungary, is the segregation between Muslims. For example, Arabs go to certain mosques, Turkish go to others, and sometimes, there is a kind of mistrust between the different groups.
Of course, this issue affects Muslims reverts as well. If they have reverted in one place, usually they get influenced by the thoughts of that particular community and they tend to follow their madhab (without knowing that other madhabs exist and their rulings are also correct and worth following). Thus, in many cases,Their creed would form without any reference to the authentic Islamic sources and they never or rarely visit other communities.
Editor: Budapest Masjid has recently opened a weekend school for Muslim children. Tell us more about what the young Muslims study there and how many students Nur school counts?
Mr Sulok: We have started the Saturday school 2 years ago in the Budapest Masjid. Currently, Nur School teaches about 200 children, which is, I believe, quite a big number, Alhamdulillah. The school welcomes students from the age of 7 till 16 for whom we teach Arabic language, the correct recitation of the Holy Quran and fiqh in a basic level e.g. how to pray or how to make ablution properly.
The students are very enthusiastic, but we face many problems originating from the parents. If they do not practice Islam properly at home showing a good example for their children, then a few hours lesson once a week in the Saturday school will not have a significant effect on them. We really need the daily help of the parents in order to raise up well educated and pious Muslims.
Editor: How does the masjid welcome non-Muslims? Is it hard to make dawah for Hungarians?
Mr Sulok: We offer Arabic language courses for free, and we are opento anyone who wants to visit us and ask about Islam. Not long time ago, even a tourist group came to the masjid. But we are not able to do street dawah or other kinds of direct callings to Islam for two reasons: firstly, the number of Muslims is not as big as in the West, and we think that something like a street dawah is just not working with the Hungarian people. Secondly, we lack the human recourses needed for such activity; I mean there are few Muslim people who are educated enough in religious issues and have that much free time to start certain voluntary dawah activities in the city.
Nevertheless, our organization involves in interfaith debates, and participates in any kind of forum where Muslims are welcomed. For instance, there is a project in the University of National Defense in Budapest concerning the minority groups in the country. We were invited to contribute to a course book writing the chapter on Islam and Muslims. We are very glad to participate in the project and present Islam as it really is.