22 December, 2017
Q
I am a 30 years old mother of two kids. I have been married for 9 years and work since 2003. Before my marriage, I was happy to get married and be a house wife, but my wish has never come true; I am still working for my family because my husband is too careless. For 9 years, I've paid him lots of money for investment and work, but each time he used the money for something else and didn't work. I made him have a shop 4 times for different products. He worked in it for 6 or 8 months, but then sold it for cheap price. He comes up with many reasons why not to work. I am so bored of this life. I only work for our life to run, for my kids to study, but he misuses my kindness. I am bored of working. I want to be house wife and give time to my kids, but sometimes I think this wish may never come true with such a careless man. Please advise me what to do. Please pray for me and my kids.
Answer
Answer:
As-Salaam 'Alaikum Sister,
I am sorry to hear about your situation. First of all, it is clear that your husband is not meeting his duties. It seems he has tried to launch some "product" as you said, but it turned out unsuccessful. We know from sacred knowledge that man and woman are different, because mainly the woman is responsible for bearing and nursing a child, and for that reason the male is the one who is financially responsible for their wives and children. This allows women to concentrate on their families. The husband and the wife are a complementary pair. Each has his own designated role and responsibilities. Together, they complete the family. Allah says in the Qur'an:
"Men are the supporters of women, because Allah has stowed on the one more than the other, and for what they have to provide (for them) from their sources. So the righteous women are obedient and protect in the absence of their husbands that which God ordains to be protected…"(Qur'an 4:34)
Even if a woman is wealthy, she is not required to spend any of her money to support the family. You may share with him the responsibility, which you have been doing, but this is not your obligation. Sometimes, on this modern society, it is hard for a male to support the whole family, and I don't see a problem if the wife helps. Marriage is a team, a partnership, and sometimes it is necessary to have both parents' income. Reflect on Surat 9:71:
"And the believing men and the believing women, they are the friends of each other, they enjoin good and forbid evil, and establish prayers, and pay the alms, and obey God and His Messenger, these, upon them God will have mercy, indeed, God is almighty, All-wise."
With that said, of course you don't have the obligation to help your husband, but it is expected that you and him make a team and do what the best for your family. Don't feel bad because you could not have your wish and stay at home; you are doing this for the sake of Allah and your children, and you will be compensate in sha' Allah.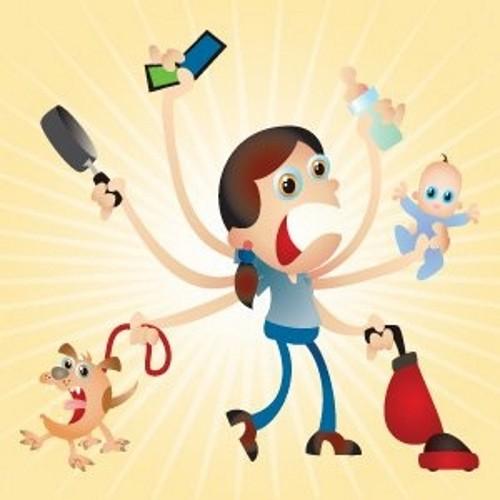 Indeed, your husband is not being responsible with his family and he is not obeying Allah commands. I don't know how much he knows about your frustration, but I believe it's is time to have clear and straight conversation. Remind your husband that one of the reasons that allow women to ask for divorce is if she is not getting financial support. When the man, who is considered the provider and maintainer of the family, fails to shoulder his responsibilities and the wife decides that she cannot continue tolerating his shirking of responsibility, this is grounds for divorce.
Establish a deadline for him to find work and make clear for him you won't accept this situation. It has been 9 years of you being patience sister, from what I read I see that you tried to help him and he used your generosity. If he really does not have a good reason for not working, pray for guidance and ask Allah to revel the truth about him.
As a last source, you have all the rights to ask for divorce if nothing change and if you feel this is the best option for you and your children. If he refuses to divorce, then you can approach the proper legal authorities to get a divorce and the judgment of divorce thus rendered by such authorities can be deemed as valid in Islam .May Allah guide you and help you to find the life you wish.
Salam,
***
Disclaimer: The conceptualization and recommendations stated in this response are very general and purely based on the limited information that was provided in the question. In no event shall AboutIslam, it's volunteers, writers, scholars, counselors, or employees be held liable for any direct, indirect, exemplary, punitive, consequential or other damages whatsoever that may arise through your decision or action in the use of the services which our website provides.